Things to Do in Okinawa with Kids: Family-Friendly Activities and Tours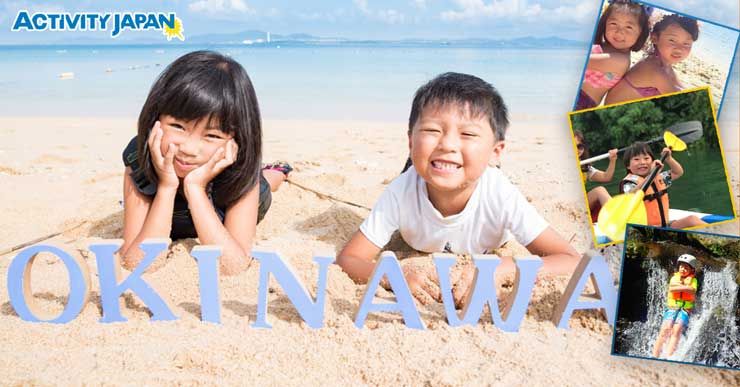 Our children are the most important people in our lives, and their happiness is our number one priority all the time. You wouldn't want them to miss out on the fun when on holiday, and we've put together the best things to do in Okinawa with kids to provide excitement for the whole family. Put a smile on your children's faces, and the entire family at large, with the many fun things to do in Okinawa with kids. These include watching huge whale sharks, grown to extraordinary lengths of up to 8.8 m, and manta rays from the Kuroshio sea from behind a 22.5 m wide by 8.2 m high acrylic screen!
Watersports like sunset SUPs and snorkeling are also among the best things to do in Okinawa with kids, with the prefecture also home to the Chatan sea park that the family is sure to love as well. Spend time in strange blue caves, riding ATVs in pineapple parks, and exploring jungles under the cover of breathtaking constellations at night. There are also cultural handicrafts and experiences for the kids to try out, including Shisa lion making, watching folk performances and poetry, glass making, and so much more!
Bring the family along for the best time ever, exploring the many awesome things to do in Okinawa with kids!
1. Bus tours of giant whale sharks and a pineapple park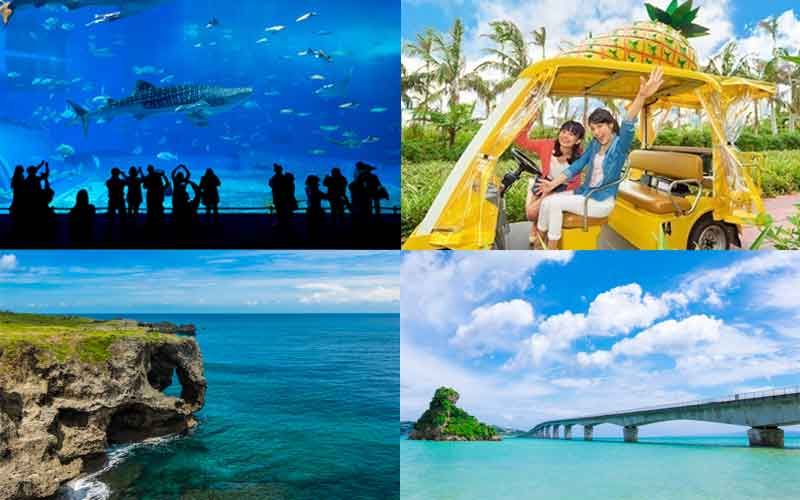 Natural light piercing through 10 million liters of blue water to illuminate mammoth whale sharks, Okinawa Churaumi aquarium is perfect for bus tours! Consider Nago Pineapple park as well!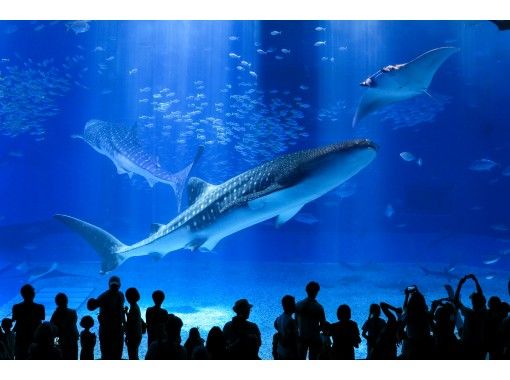 Bus Tour from Naha to Okinawa Churaumi Aquarium, Dino Park Yanbaru Subtropical Forest, Cape Manzamo, and Nago Pineapple Park
Naha, Okinawa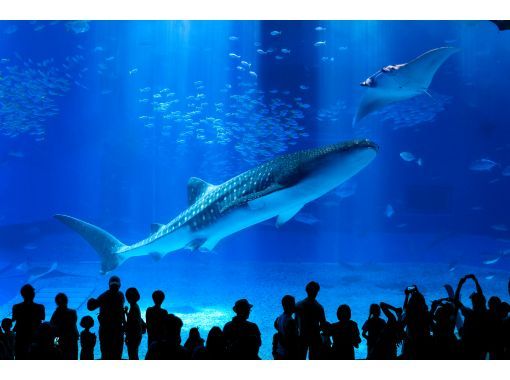 Bus Tour from Naha to Churaumi Aquarium, Cape Manzamo, Okashigoten Onna Branch, Kouri Island, and Nago Pineapple Park
Naha, Okinawa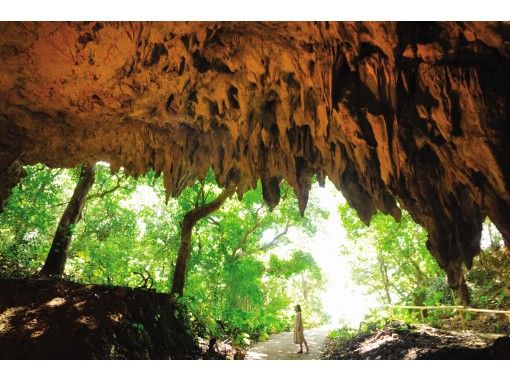 Bus Tour from Naha to the Valley of Gangala
Naha, Okinawa
2. Explore glowing blue caves and a glorious cape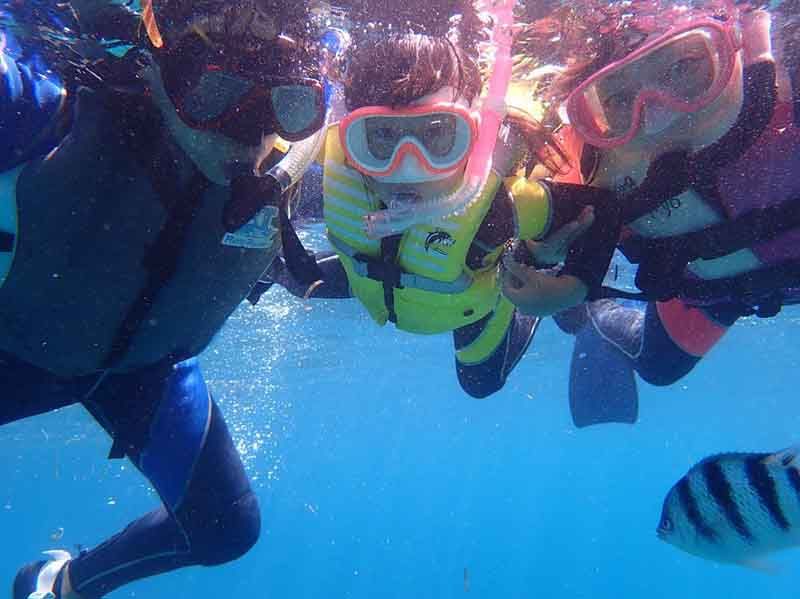 A magnificent coastline at Cape Maeda with grand views of the ocean and sparkling blue caves in Onna village ensure world-class snorkeling in Okinawa. Swim with green turtles and manta rays!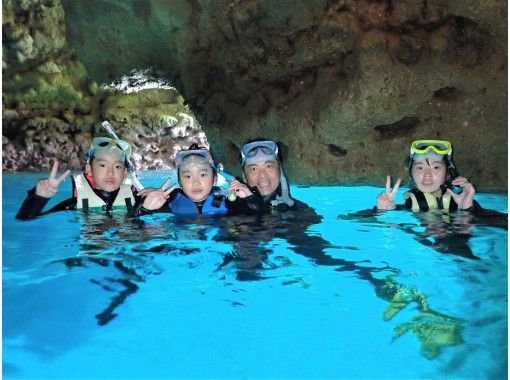 Family-Friendly Snorkeling Tour: Experience Swimming and Feeding Fish at the Blue Cave of Okinawa
Onna, Okinawa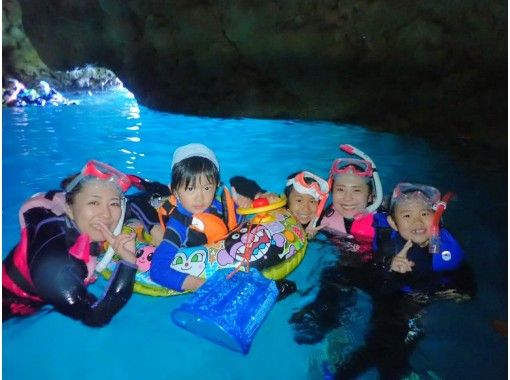 Enjoy the Clear Waters of Okinawa in Swimming and Snorkeling Experiences with Your Family (Children from 2 Years Old Can Participate)
Onna, Okinawa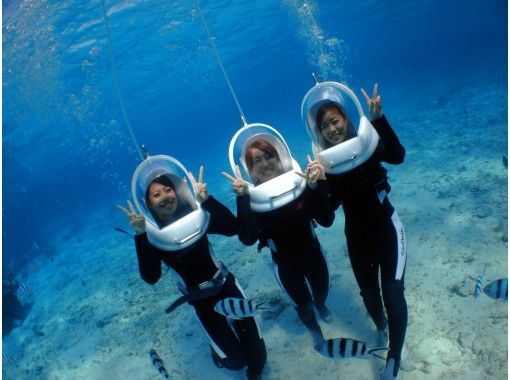 Blue Cave Snorkel & Onna Village Sea Walk Experience
Onna, Okinawa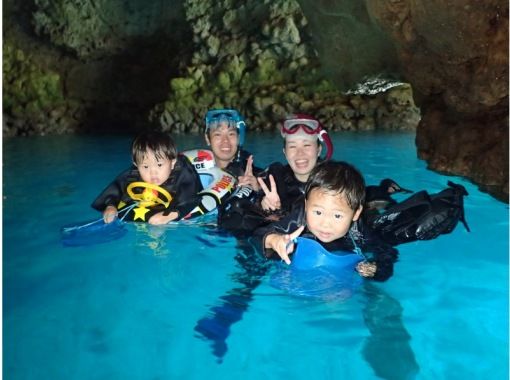 Family-Friendly Snorkeling Experience at the Blue Cave of Okinawa!
Onna, Okinawa
3. Sea fishing gateways with enormous mackerels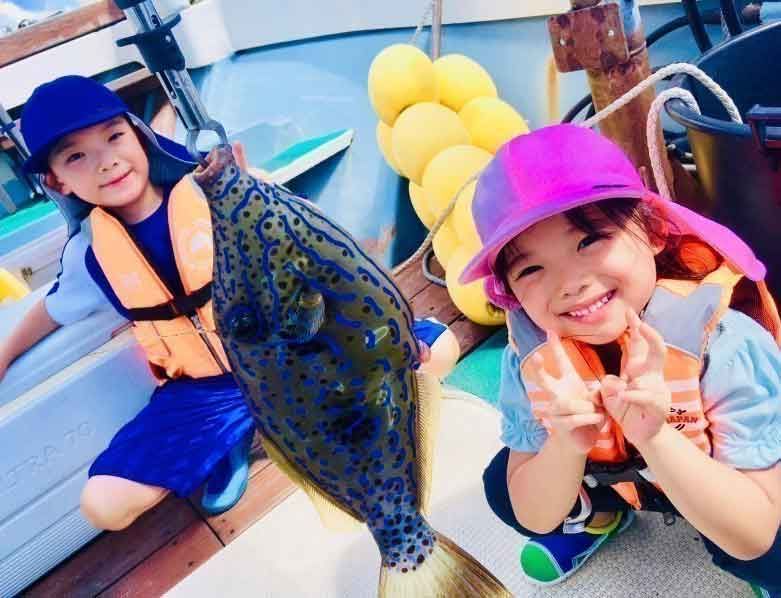 Show the kids where our food comes from and create lifelong memories fishing for amberjacks in Chatan, Onna, and Iriomote. Reel in tuna and giant mackerels for your social media selfies!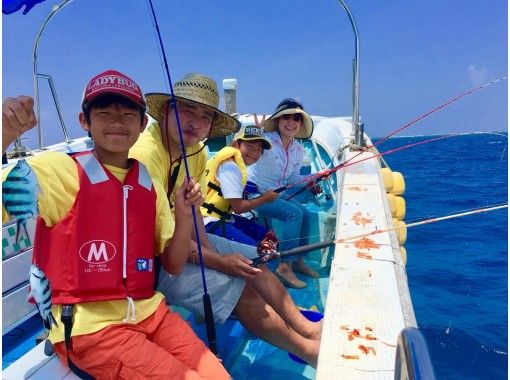 Beginner and Children-Friendly Boat Fishing Tour in Okinawa
Kadena, Okinawa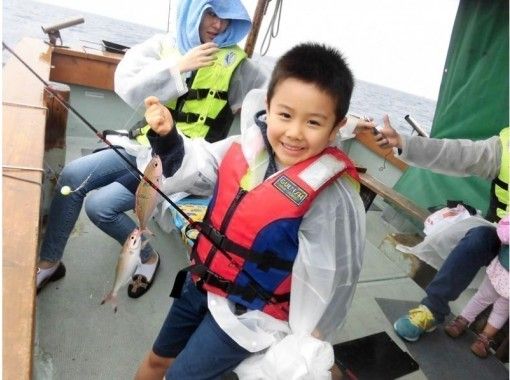 Fishing Tour in the Beautiful Sea of Okinawa! Cook the Fish You Catch and Enjoy a Delicious Meal with Your Friends and Family!
Motobu, Okinawa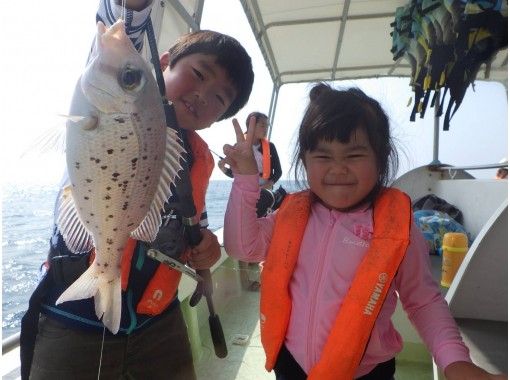 Half-Day Fishing Experience That Children and Beginners Can Easily Enjoy in Okinawa!
Taketomi, Okinawa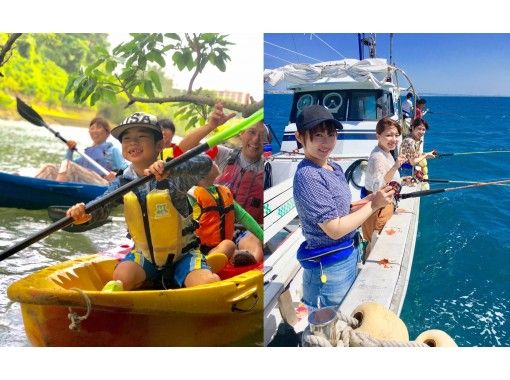 Mangrove Kayaking & Charter Boat Fishing Tour (Recommended for Beginners and Children)
Nakagami District, Okinawa
4. Ride into the sunset at Ishigaki island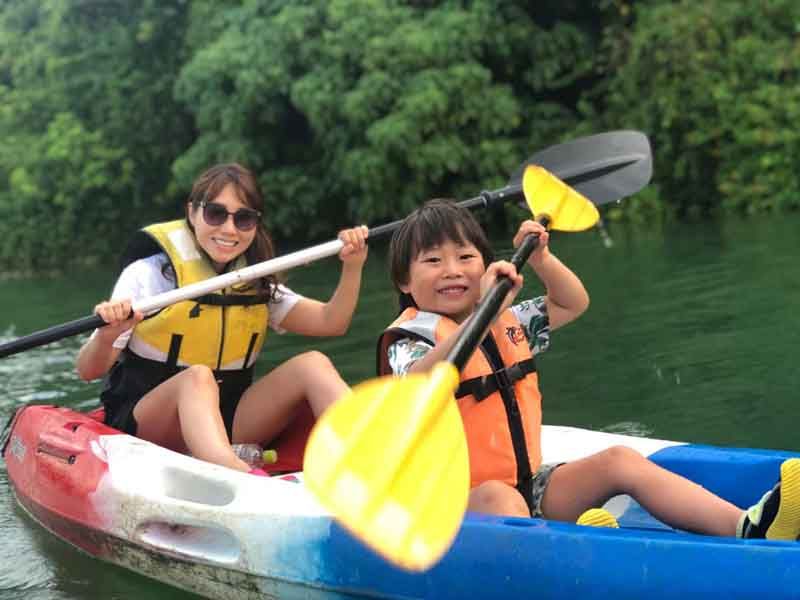 Storybook endings become a reality in Ishigaki and Iriomote islands, where you can enjoy twilight canoeing into a seascape light by the fading yellow of a disappearing sun. Kayaking through the mangroves is just as magical!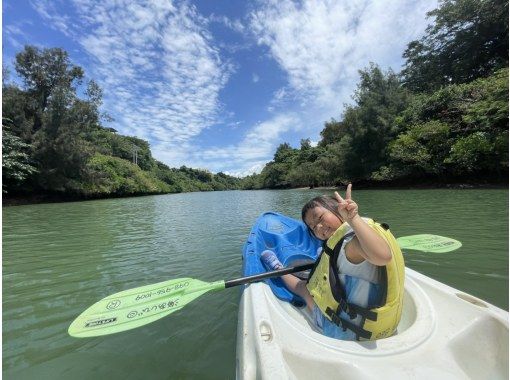 Explore the Subtropical Plans and the Unique Nature Scenery in a Mangrove Kayaking Adventure!
Kadena, Okinawa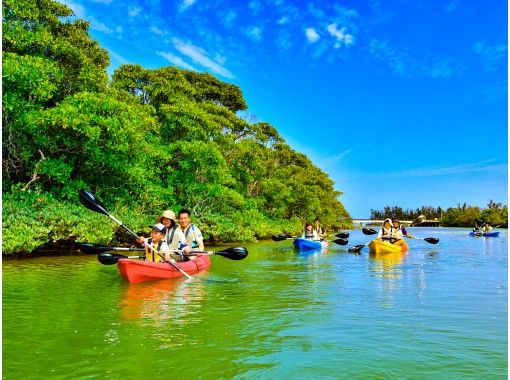 Embark on a Mangrove Kayaking Adventure with Your Family!
Kin, Okinawa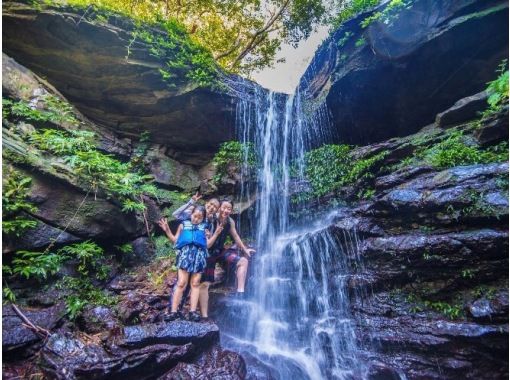 Explore the Wild Jungles Trekking and Spend Fantastic Times Canoeing or Stand Up Paddle Boarding in Iriomote Island
Yaeyama District, Okinawa
5. Cuddle up with family in an Okinawa banana boat
What goes well with a beautiful blue ocean and fairytale scenery? Why, of course, a banana boat ride for the whole family! The turquoise waves licking at your feet, you'll have a ton of fun!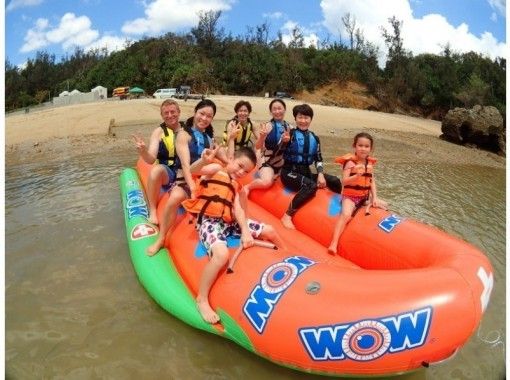 Enjoy 3 Marine Sports Activities Including an Exciting Banana Boat Ride with Your Friends and Family!
Ginoza, Okinawa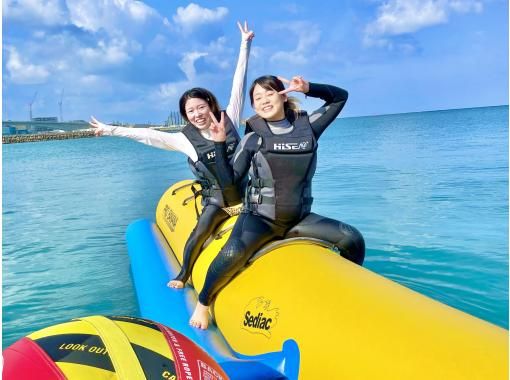 Ride a Banana Boat, Jet Ski, Wakeboard, or Fly Board and Enjoy a Fun-Filled Day with Your Friends and Family in Okinawa!
Uchidomari, Ginowan City, Okinawa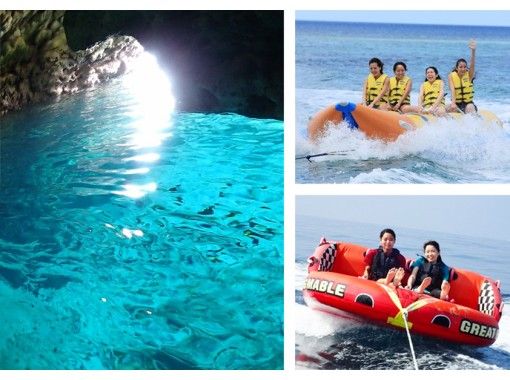 Double the Fun with Blue Cave Snorkeling, Banana Boat Tours and more!
Onna, Okinawa
6. Hang out with mermaids at Onna village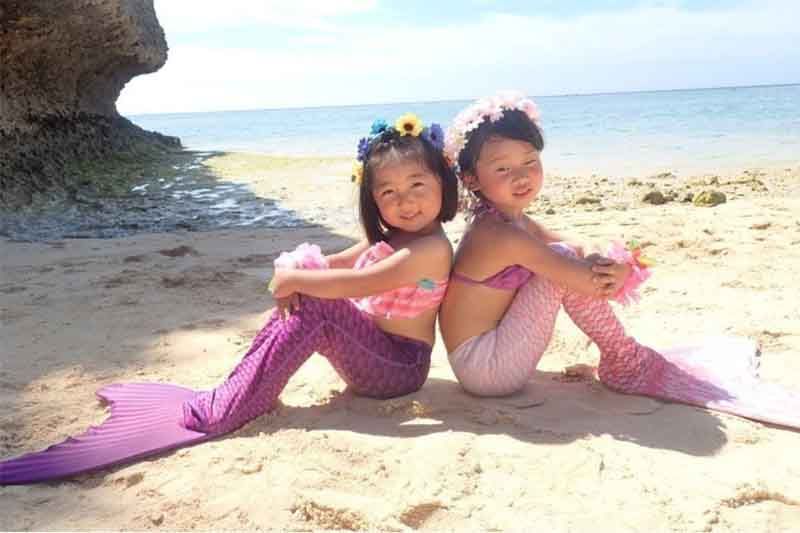 In Onna, mermaids are not a figment of the imagination; they are real and warm creatures with a penchant for photography. Spend time with beautiful mermaids, and let the kids take pictures for proof to their friends!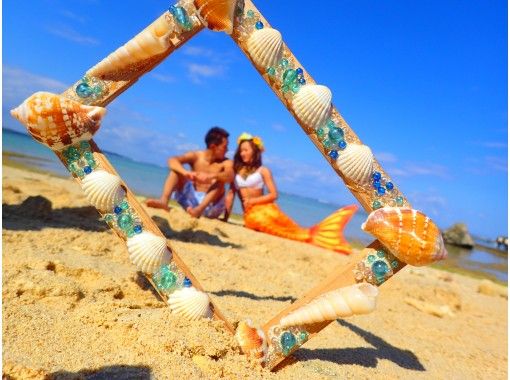 Mermaid Swim Experience & Blue Cave Snorkeling!
Onna, Okinawa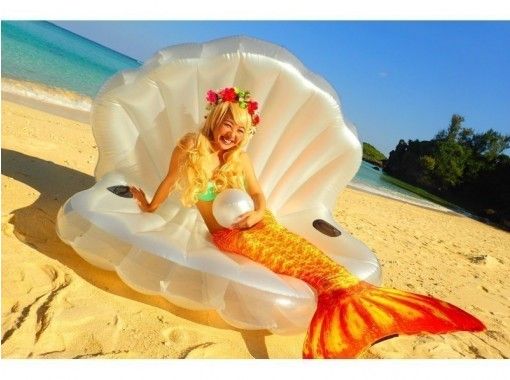 Transform into Disney's Princess Ariel and Pose for a Photoshoot on the Beach with Your Little Ones!
Onna Village, Okinawa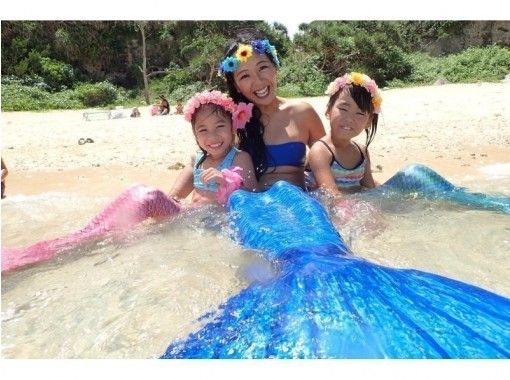 Wear a Mermaid Swimwear and Try to Swim Like Mermaids in Okinawa! (Small Children from the Age of 2 Years Old Can Participate)
Onna, Okinawa
7. Play in waterfalls and ziplines in Yanbaru
Touched by overwhelming nature and clear streams, Yanbaru and Iriomote are some of the few places to experience treats of waterfall climbing, natural sliders, overwater ziplining, and canyoning!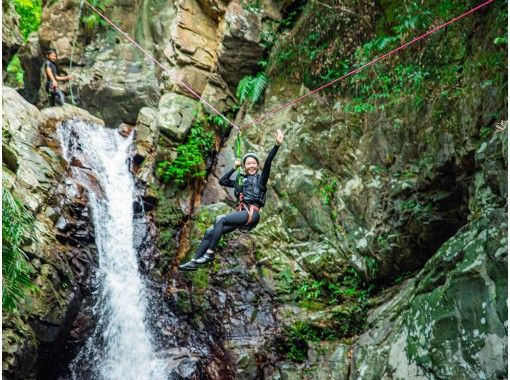 Yanbaru Shower Climbing, Canyoning Tour, Zip-Sliding and Trekking in Okinawa!
Nago City, Okinawa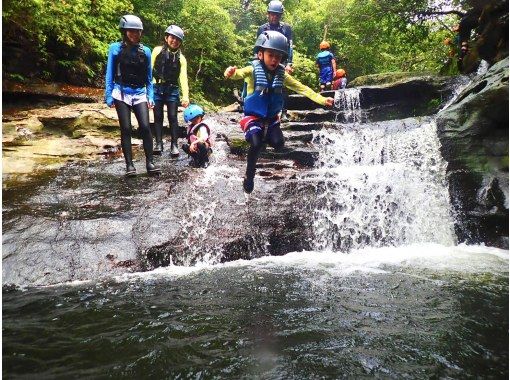 Jump into the River, Slide Down the Waterfall, and More in a Thrilling Canyoning Experience! (Family-Friendly Course)
Taketomi, Okinawa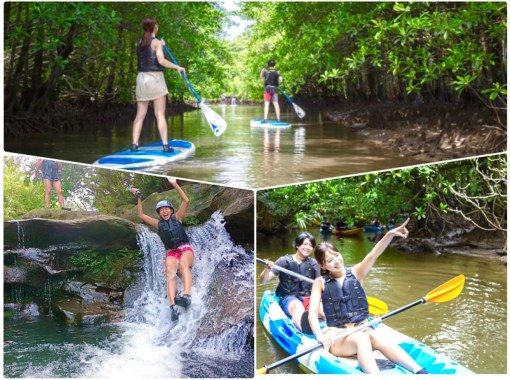 Outdoor Nature Activities for the Whole Family: Mangrove Kayaking or SUP, and Canyoning Adventures!
Taketomi, Okinawa
8. Okinawa ATV tours: Explore incredible landscapes in style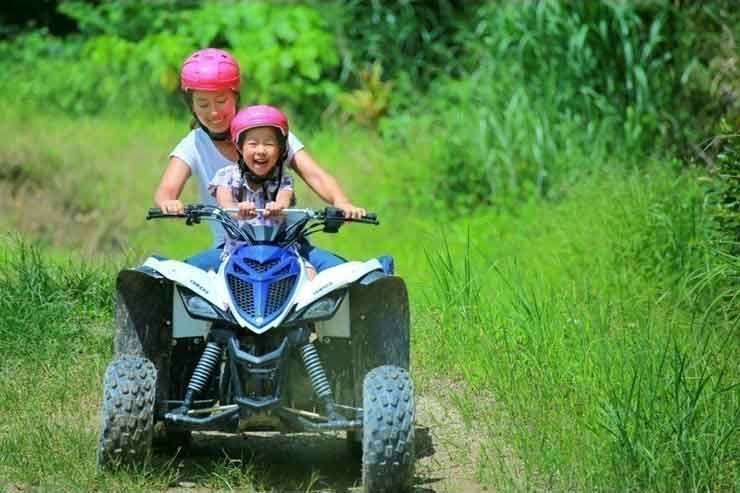 Across Nago, Itoman, Iriomote, and Ishigaki, buggy tours are available featuring courses across large farms, beautiful jungles, and pineapple villages. Children can ride with their parents for an amazing thrill in nature!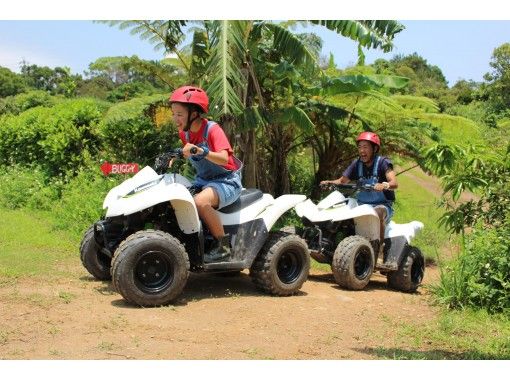 Get Muddy with a 4-Wheel Buggy Ride Tour in a Village Famous for Pineapples in Okinawa! (Family-friendly Experience)
Higashi, Okinawa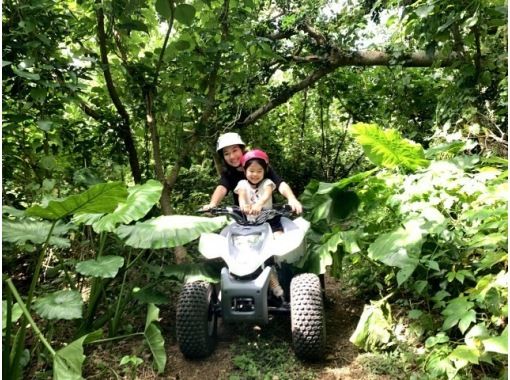 Explore the Jungle with Buggies While Experiencing the Ocean Breeze in Itoman Okinawa (Beginner and Children-friendly course)
Itoman, Okinawa
9. Uncover geological mysteries in Miyakojima
Amazing limestone caves such as Miyakojima's pumpkin cave that offers refreshing exploration. Wade under stalactites, with headlamps shinning the way, to uncover old mysteries!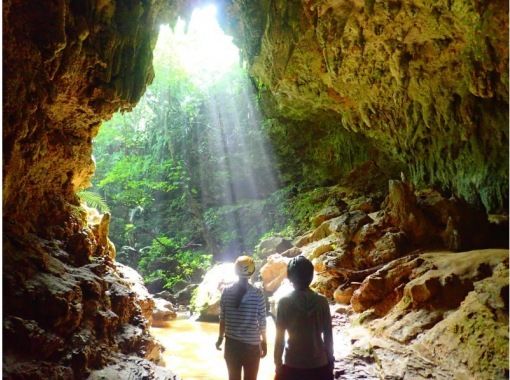 Iriomote Island Limestone Cave Exploration (Half-day Tour)
Taketomi, Okinawa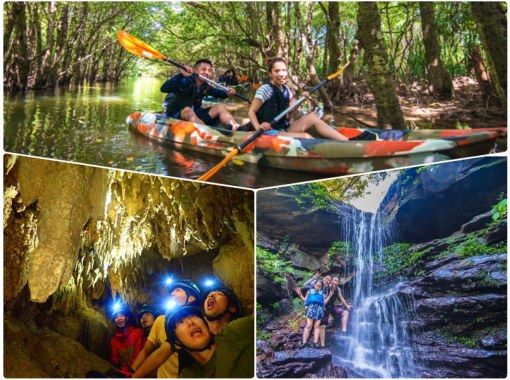 Enjoy Mangrove Cruising and Exploring a Limestone Cave in Iriomote Island
Taketomi, Okinawa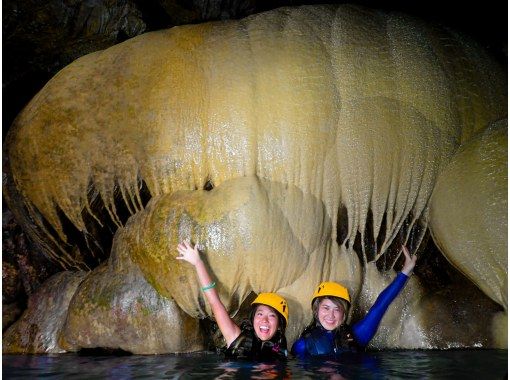 Pumpkin Cave Exploration & Kayaking Tour in Miyakojima
Miyakojima, Okinawa
10. A tasty tour for the entire family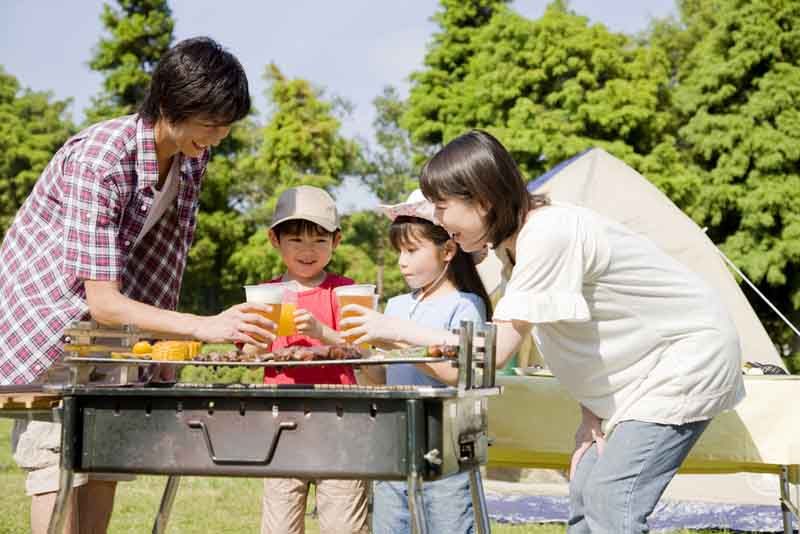 The whole family can enjoy a day out in Nago and Miyakojima while chilling to the aroma of a beach barbecue. Delicious seafood, beef, exotic pineapples, and more are on the menu!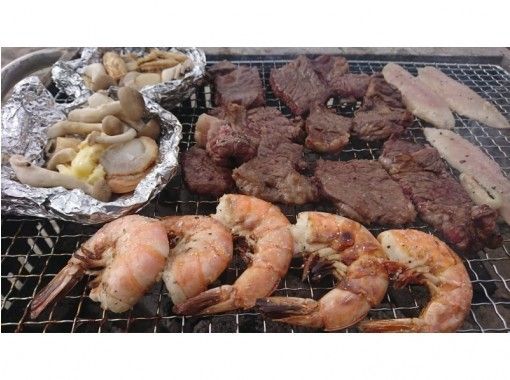 Bbq on the Beach with Your Friends and Family While Enjoying Various Marine Sports!
Nago, Okinawa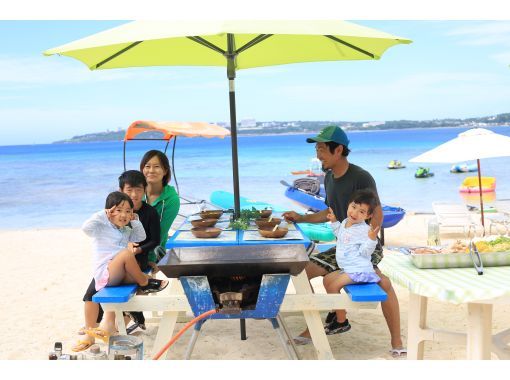 Call Your Friends and Family and Enjoy a Tasty Bbq to the Fullest in Okinawa! (All Ingredients, Delivery and Installation Included)
Motobu, Kunigami District, Okinawa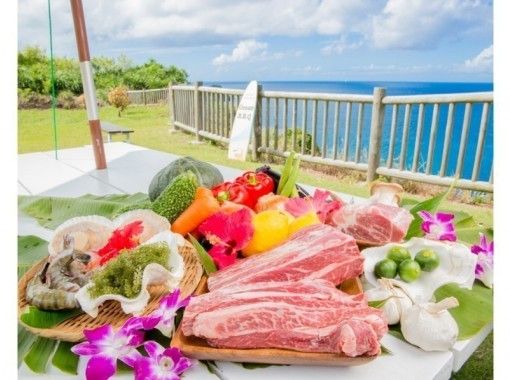 Enjoy Blue Cave Snorkelling & Delicious Bbq with Your Friends or Family in Onna!
Onna, Kunigami District, Okinawa
11. Explore the fruits-based theme park: Okinawa Fruits Land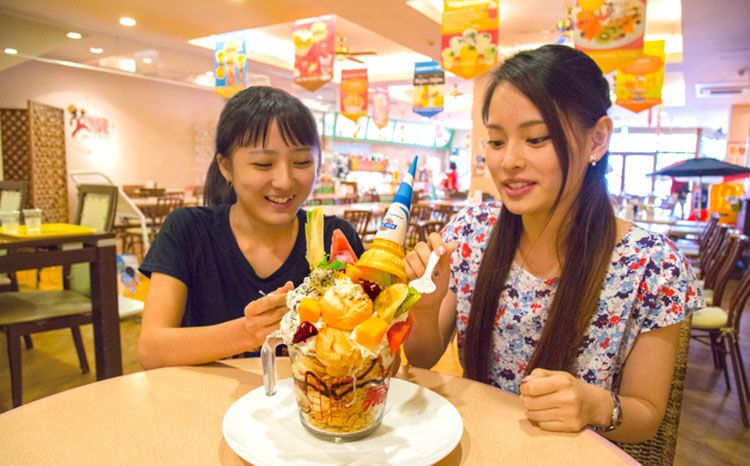 OKINAWA Fruits Land is a theme park where you can explore the story of fruits with your friends and family. There are plenty of challenges, gimmicks and fruits to discover - come and play in the tropical kingdom!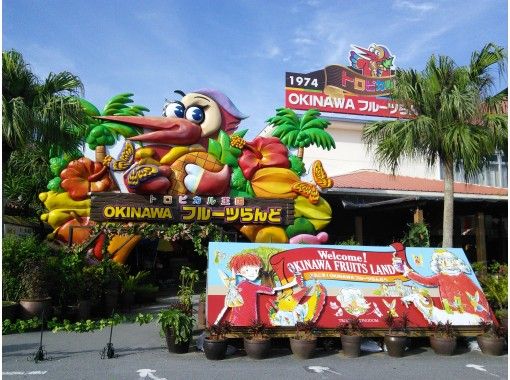 Get Your OKINAWA Fruits Land Sale Admission Tickets
Nago City, Okinawa
12. Keep in shape with island strolls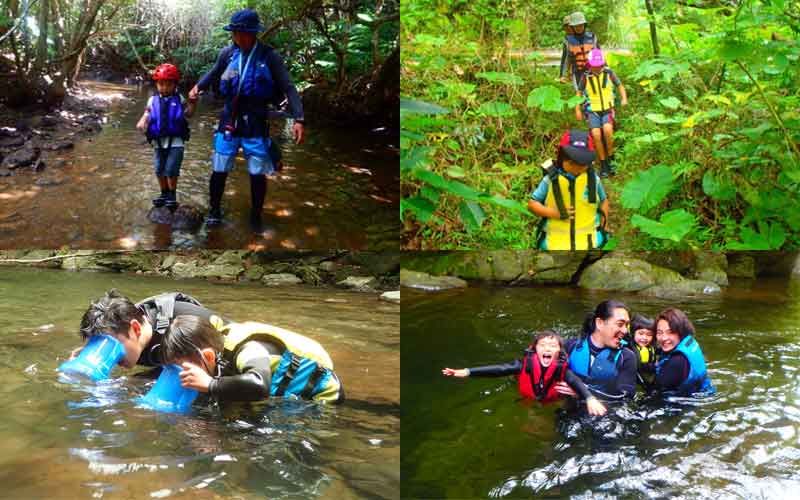 An adventure in the outdoors is a great fitness plan for the family. Trek across clear streams, dreamy forests, and scenic mountain trails as you bump into members of the diverse ecosystem in Iriomote, Ishigaki, and Yanbaru!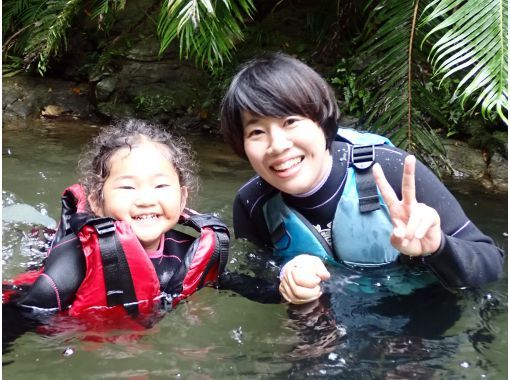 Make a Memorable Family Trip: Yanbaru Forest River Trekking Tour
Nago, Okinawa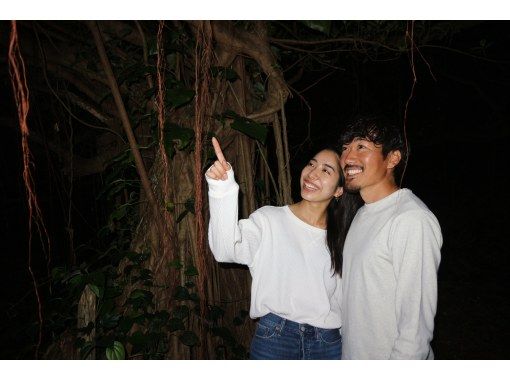 Go on a Night Jungle Expedition in Miyako Island!
Shimoji Kurima, Miyakojima City, Okinawa
Explore the Incredible Nature of Yanbaru Shower in a Family Trekking Tour!
Kunigami District, Okinawa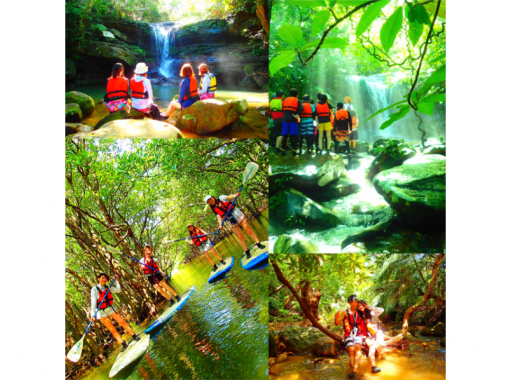 Guided Mangrove Kayaking, SUP, and Waterfall Trekking Exploration Course in Iriomote Island
Yaeyama District, Okinawa
13. Okinawa cosplay photoshoots: Become a mermaid, or samurai, for the day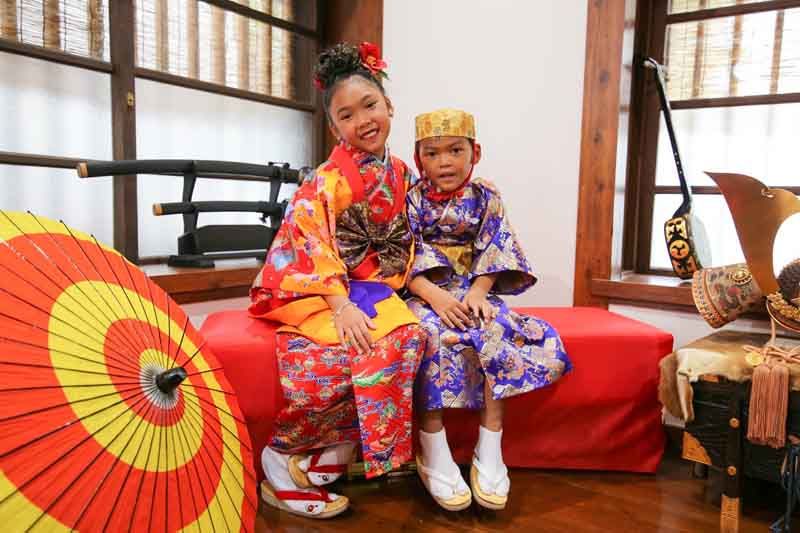 Available in all sizes for children and adults alike, mermaid cosplays on a beautiful beach is a nice way to spend an afternoon. You can also try out kimono dress-ups in Naha!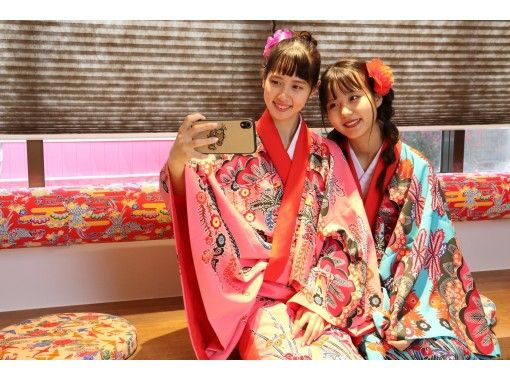 Unique Way to Capture a Family Photoshoot Dressed Up in ''Ryuso'' Okinawa's Traditional Kimono!
Naha, Okinawa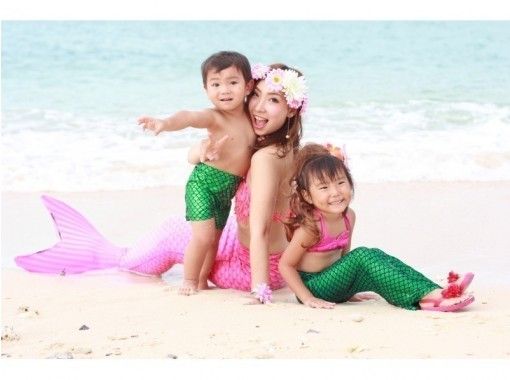 Wear a Mermaid Costume and Get Your Photos Taken by a Professional Photographer at the Beach!
Okinawa
14. Fun with culture: Ishigaki folk songs and dance
Ishigaki island has a rich folk heritage. Get treated to some of that inspiring culture involving customary Yaeyama folk songs, popular during farming and festivals, and traditional performances, often encompassing beautiful poetry!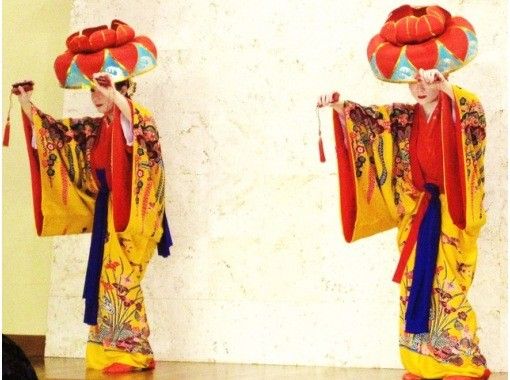 Enjoy Authentic Ryukyu Cuisine While Watching All 10 Ryukyu Dance Performances by Award-Winning Dancers in Okinawa
Naha, Okinawa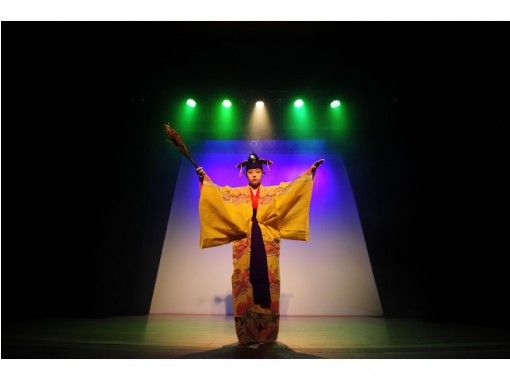 Enjoy a Traditional Folk Dance and Song Performance in Okinawa
Taketomi, Okinawa
15. Stop and smell the roses in Okinawa city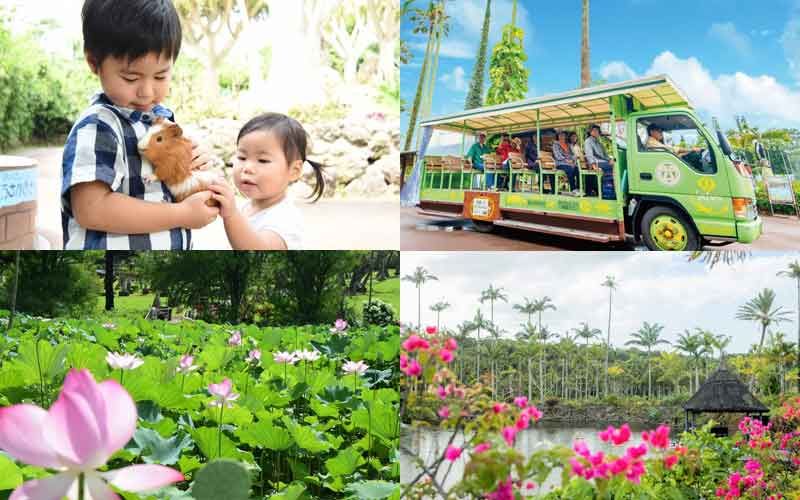 Home to adorable goats, hamsters, and inquisitive capybara, Okinawa city's botanical garden offers the family a refreshing experience in palm forests and flower gardens. There are more than 1300 tropical plant varieties for guests to explore!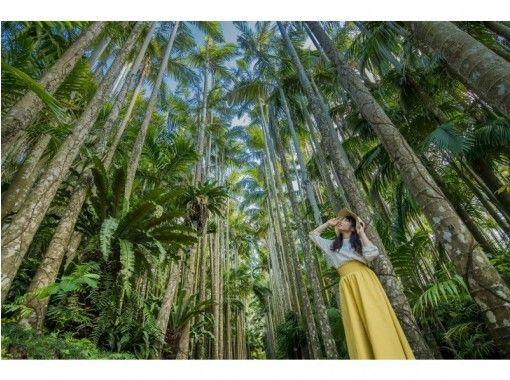 Southeast Botanical Gardens Admission Tickets
Chibana, Okinawa
16. Meet dinosaurs at Dino park Yanbaru subtropical forest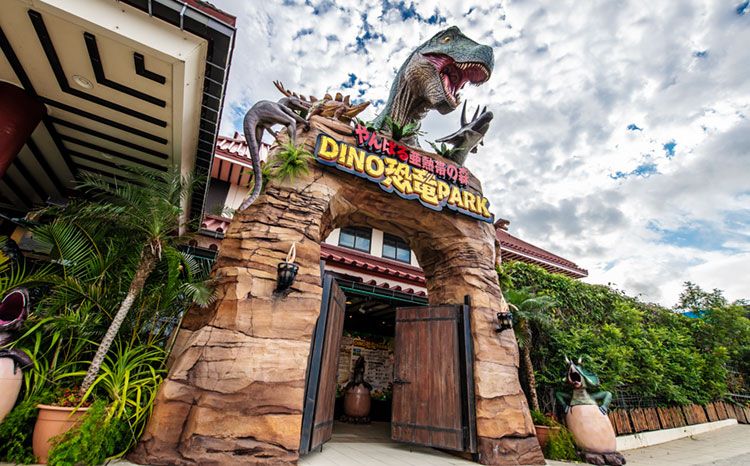 If you love dinosaurs, head to Dino Park Yanbaru Subtropical Forest in Okinawa! Meet Tyrannosaurus and Stegosaurus among 80 other different species! Seek out hidden dinosaur eggs as you enjoy the lush vegetation. Kids and even adults can't resist this charming theme park!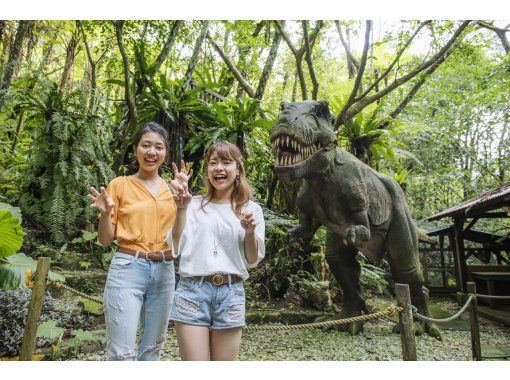 Dino Park Yanbaru Subtropical Forest Ticket in Okinawa
Nakayama, Nago City, Okinawa
17. Let's go on an adventure with Pineapples!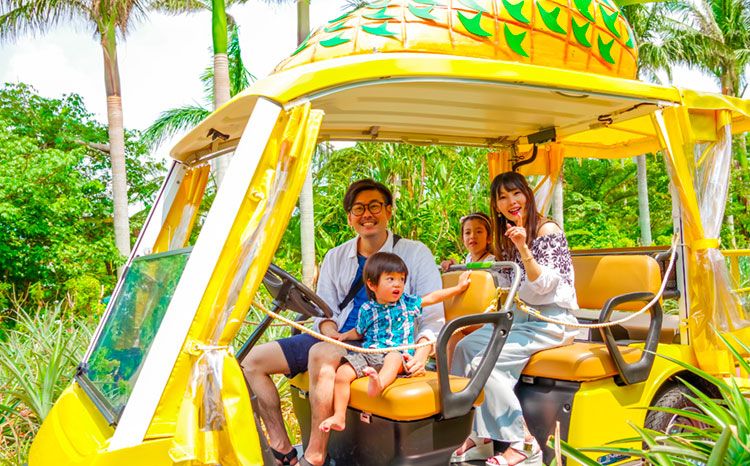 Visit Nago Pineapple Park in Okinawa and get a pineapple picker's high. Ride pineapple shaped-cars and drive through pineapple fields, explore fascinating gardens and try tasty products made with fresh pineapples, including wine, juices and desserts.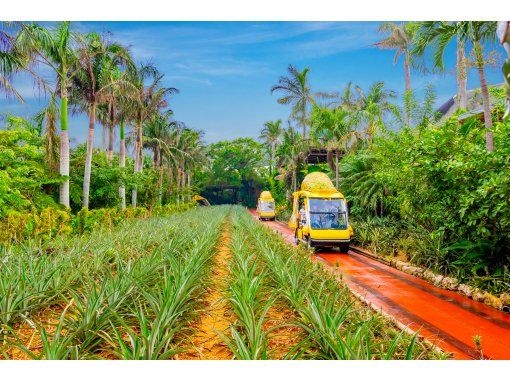 Nago Pineapple Park Admission Discount Ticket
Nago City, Okinawa
18. Play out on the open sea at Chatan Sea park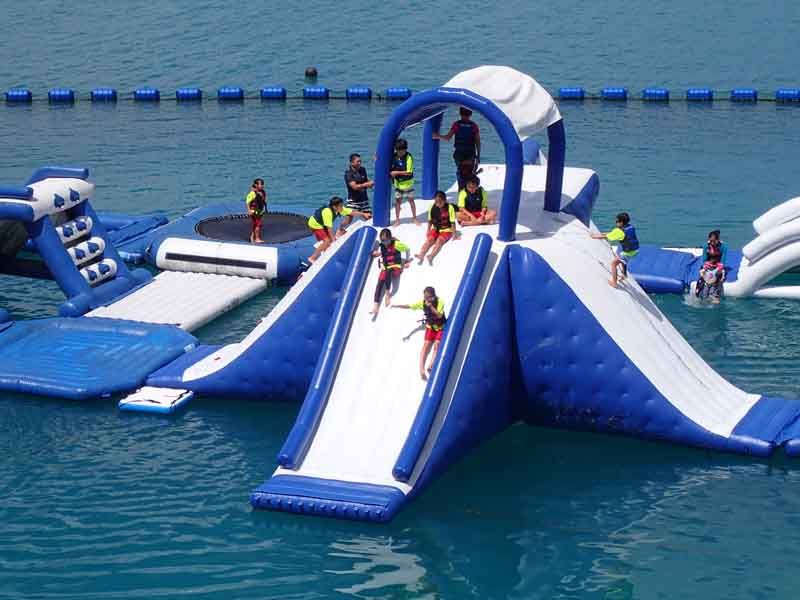 Inflated rubber molds into a beautiful playground, minutes away from the Chatan shoreline. The pontoon park entails free diving, SUP cycling, clear water kayaking, sliders, and boat fishing!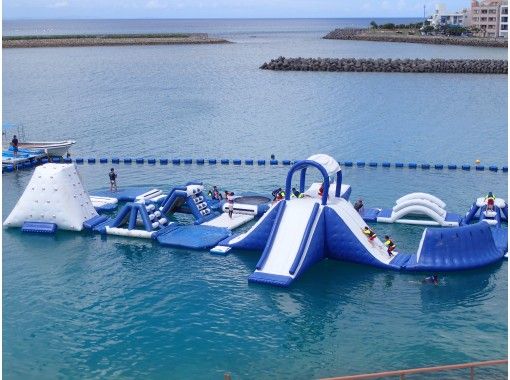 Enjoy a Fun Day at the Sea Playing at a Waterpark in Chatan!
Chatan, Okinawa
19. Embracing Japanese mythology with Shisa lion crafting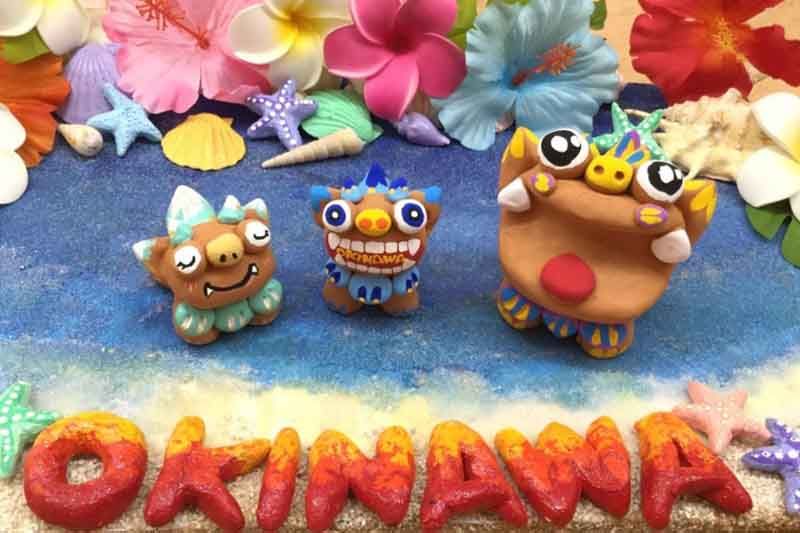 The Shisa lion is believed to keep evil away or hold the good in depending on placements around the house. Making this important Ryukyuan artifact is always an interesting affair!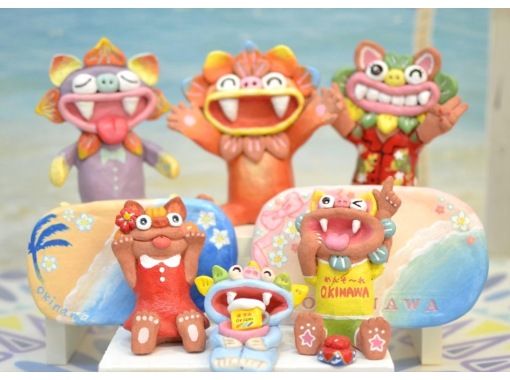 Children-Friendly Shisa Lion Painting Experience
Naha, Okinawa
Make, Bake, Paint and Take Home: Shisa Lion Crafting Workshop!
Nago, Okinawa
Family-Friendly Experience: Shisa Lion Painting Course
Naha, Okinawa
20. Make the world beautiful, one T-shirt at a time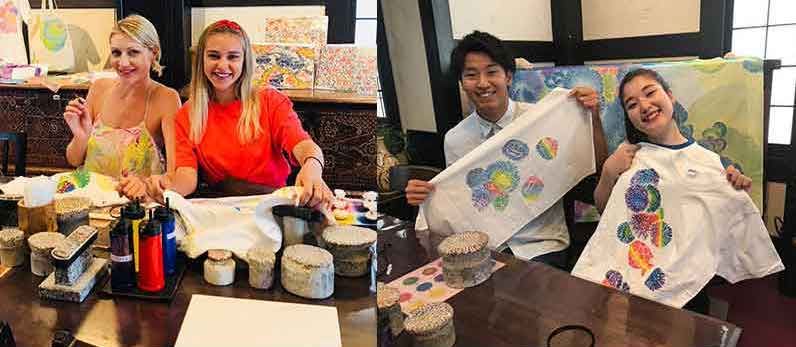 Colors are the essence of life, making the mundane gorgeous and uplifting the boring into excitement. Showcase your painting skills with Okinawa dyeing experiences entailing eco-bags, book covers, T-shirts, and more!
Paint & Dye T-Shirts with Your Favorite Stylish Designs
Higashi, Okinawa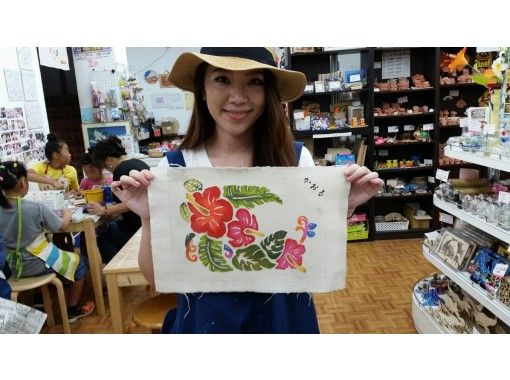 Learn How to Dye Textiles Using Okinawa's Traditional Patterns and Crafts
Okinawa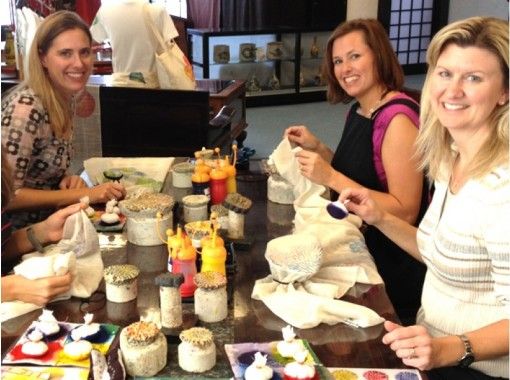 Coral Dyeing Workshop at Shuri Ryusen in Okinawa
Naha, Okinawa
21. Fun with art: Sandblasting and glass workshops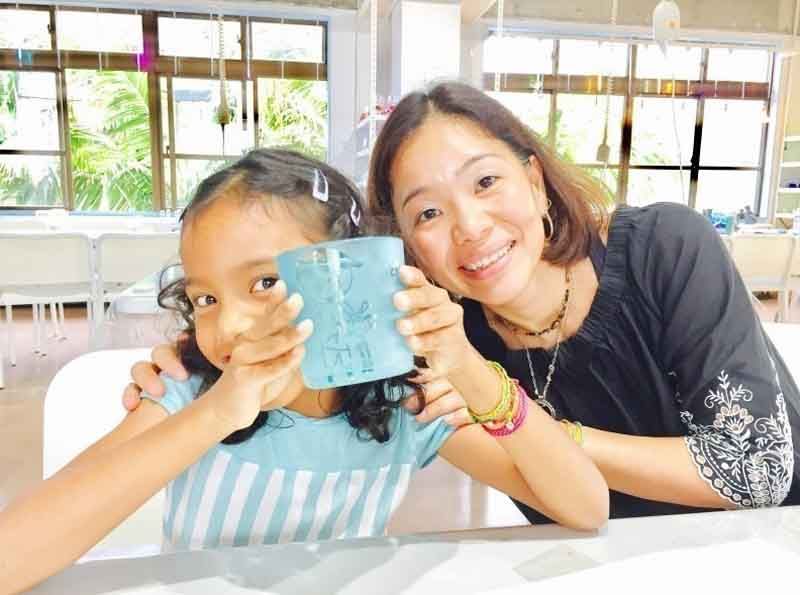 From gorgeous photo frames to lovely Ryukyu glass utensils and colorful chandeliers, glass workshops and sandblasting experiences are a great way to fuel creativity and make beautiful items to commemorate the holiday!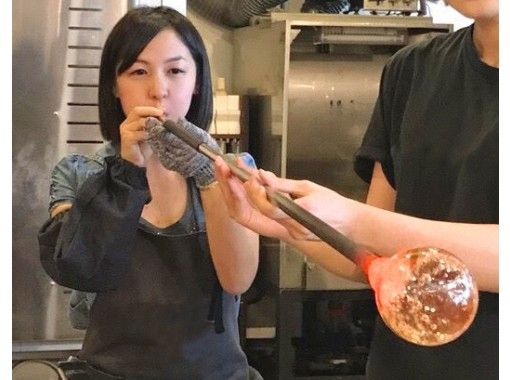 Make Your Own Ryukyu Glass Using Traditional Blown Glass Methods
Taketomi, Okinawa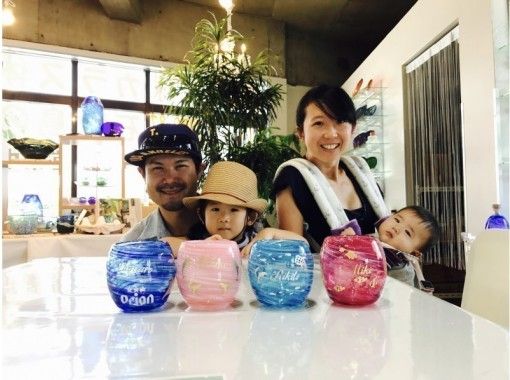 Perfect for Travel Memorial! Make Original Glass Works with Sandblasting Techniques
Taketomi, Okinawa
22. Ox-cart rides in blissful islands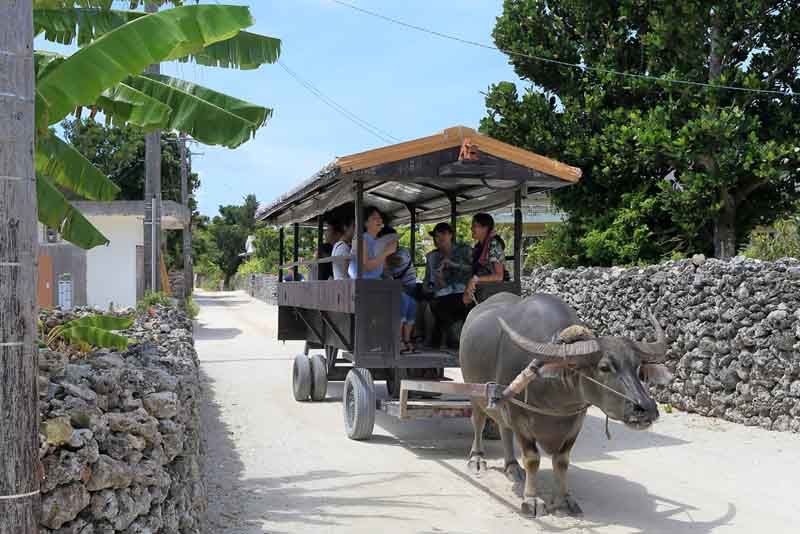 How was life like in the medieval age? Find out on ox cart strolls around the beautiful Okinawa islands of Ishigaki and Iriomote, the latter home the only cat of its kind!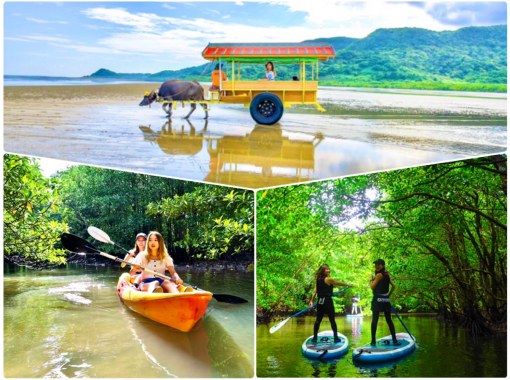 Island Sightseeing Tour Riding an Ox-Cart with Mangrove SUP or Canoe!
Taketomi, Okinawa,
Phantom Island Snorkeling & Taketomi Island Sightseeing on an Ox-cart!
Taketomi, Okinawa
23. Make beautiful shellfish and other accessories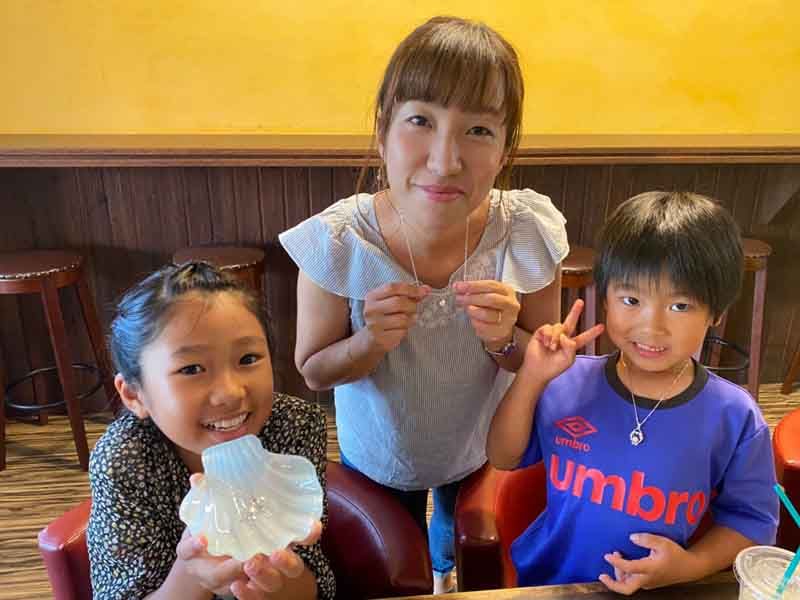 Break away from technology-addictions, with some quality family bonding over jewelry and other accessory making. Have fun with gorgeous pearls and kimono makeovers, including tiny umbrellas and makeup!
24. Red potatoes and candy making in Naha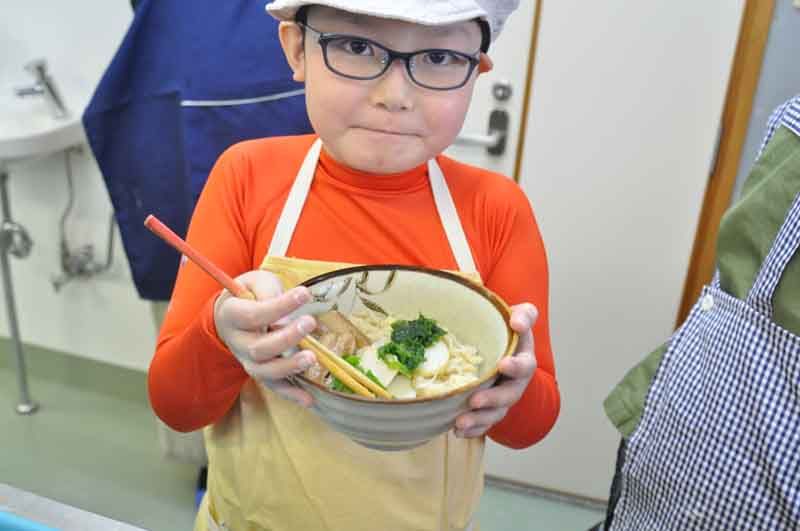 Learning to cook is an important part of growing up. You and the children have the opportunity to craft exotic dishes like soba noodles, mochi, red potatoes, pork, candy, and much more with Okinawa cooking lessons!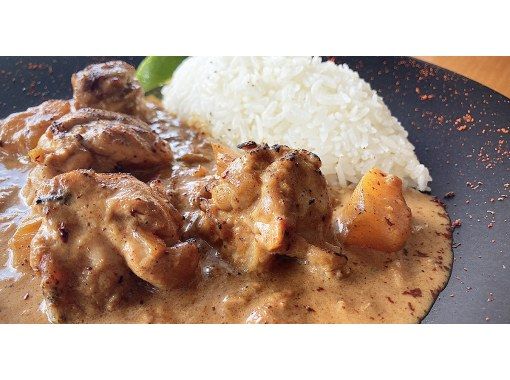 Make a Sweet and Special Spice Curry with an Expert Chef While Enjoying Sea View in the Horizon
Chatan Town, Nakagami District, Okinawa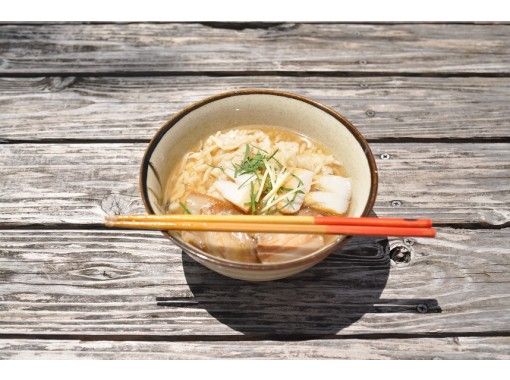 Family-Friendly Cooking Class at Okinawa: Authentic Buckwheat Making Experience
Nago, Okinawa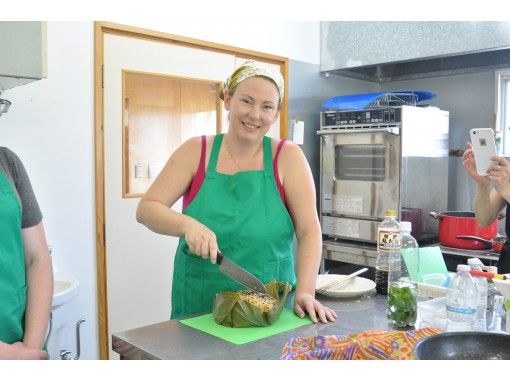 Cooking Class for Families and Groups: Ryukyu Candy Making Experience
Nago, Okinawa
25. Cast your dreams on a shooting star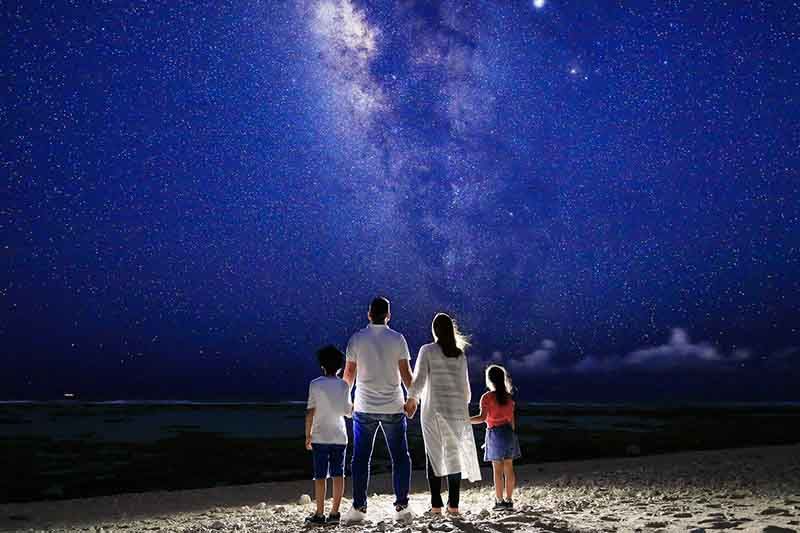 Okinawa enjoys a splendid share of the Milky Way, and the stars are magical this time of year. Hold hands in the beautiful moonlight and enjoy strolls under a picture-perfect sky!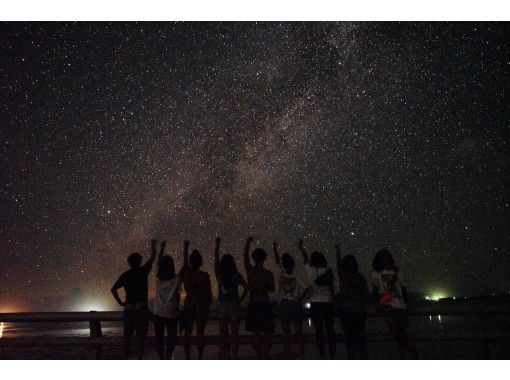 Starry Sky & Jungle Night Tour in Miyakojima
Miyakojima, Okinawa
Make Memories of a Wonderful Trip Under the Starry Night Sky
Itoman, Okinawa
Observe the Starry Sky in Nakijin and Take Memorable Photos with Your Friends and Family in a Professional Photography Session
Nakijin, Okinawa
26. Okinawa Jungle Night Tours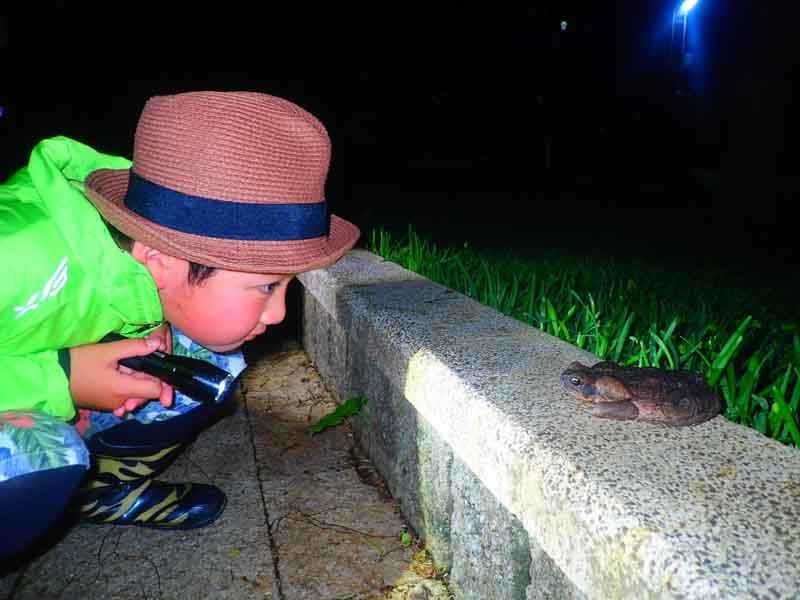 When the sun goes down, the friendly and beautiful night critters of Iriomote wake to scavenge food. Be sure to also catch the beautiful sunset and lightning bugs in Onna village!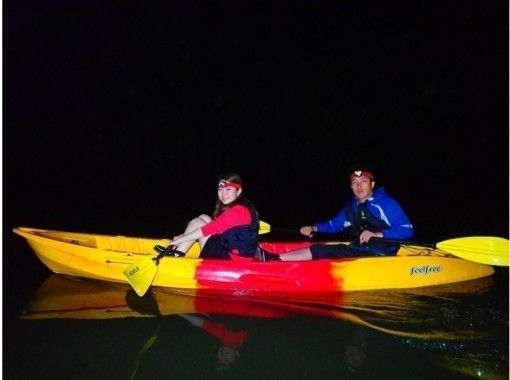 Starry Sky & Night Mangrove Sup or Canoeing Adventure in Ishigaki Island
Ishigaki City, Okinawa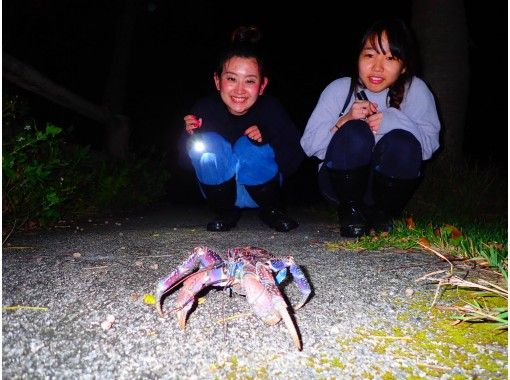 Enjoy an Exciting Guided Night Tour in the Subtropical Jungle of Ishigakijima and Watch the Starry Sky
Uehara, Taketomi, Okinawa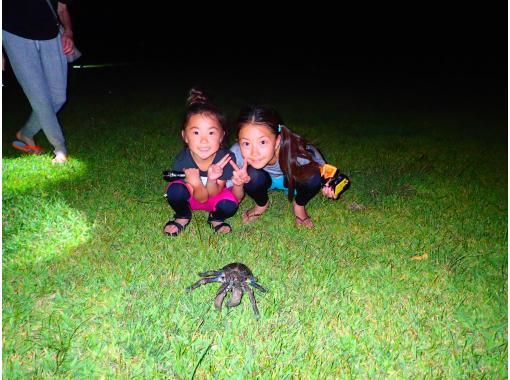 Explore the Bright Night Sky of Iriomote Island and the Subtropical Jungle Creatures in a Guided Night Tour
Uehara, Taketomi, Okinawa
Frequently asked questions
Q

What activities are good for families visiting Okinawa?

AA beautiful coastline and serene islands ensure the things to do in Okinawa with kids are endless. Families with children should consider:

• BBQ outings

• Churaumi Aquarium bus tours

• Nago Pineapple park visits

• Cosplay photoshoots

• Shisa lion crafting

• Mermaid adventures
Q

Why is Okinawa so popular? What makes it famous?

AOkinawa is especially famous for its top-notch scuba diving, watersports, and beautiful islands such as Ishigaki and Iriomote. It also steals spotlights with its impressive theme parks and Okinawa Churaumi aquarium, which was the largest in the world up until 2005.
Q

Are there any good things to do in Okinawa at night?

ASub-tropical jungle expeditions and starry sky tours are excellent things to do in Okinawa with kids at night. The family is sure to appreciate the unique nature, and the streaming comets and twinkling stars, among many other delights, exclusive to the darkness.
Q

What family-friendly, outdoor activities are available in Okinawa?

AHave fun as a family with tours in unique blue caves and rides on banana boats. More adventures entail:

• Ishigaki Island snorkeling

• Kuroshio sea fishing

• Nago ATV tours

• Iriomote Ox cart rides in paradises of nature

• Canyoning in Yanbaru

• Limestone Caving tours

• Botanical Garden strolls
Q

What transport options are available for the Okinawa Churaumi Aquarium?

AFrom the airport in Naha, you can get a direct bus to the Okinawa Churaumi Aquarium, which takes approximately 1.5 hours. The American village, Okinawa world, Manzamo, Kouri Island, and Nago Pineapple park are great places to visit as well when in Okinawa!