Japanese Calligraphy Classes | Learn the Ancient Art of Calligraphy | Lessons & Workshops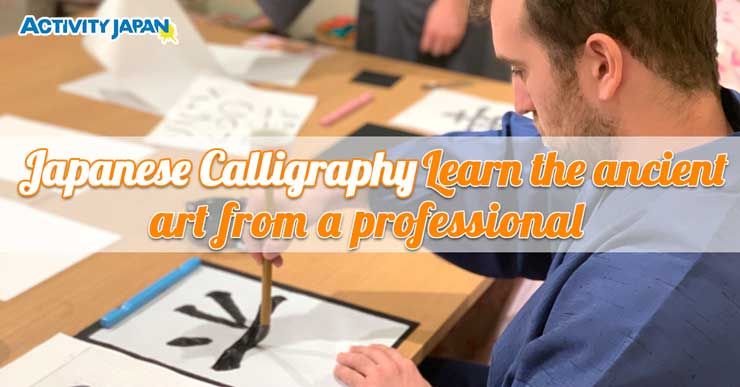 Japanese is a rich and diverse language, featuring a huge vocabulary that takes quite a lot of time for foreigners to master. Luckily, shodō isn't as hard to grasp, although it does require a great deal of dedication, determination, practice, and above all, patience. You can easily hone your skills in minutes in Japanese calligraphy classes.
It is an artform heavily influenced by Zen Buddhism in particular, just like the backbone of many other philosophies passed down from ancient Japan. The concepts were initially imported from China around 710 AD, but the country has molded its unique styles of writing over centuries to inspire a new form that's exclusively Japanese. This cultural experience helps instill important principles of discipline and provides benefits such as stress relief and spiritual nourishment, among many others! Learn the various techniques of executing shodō across Japanese calligraphy classes in Tokyo, Kyoto, Osaka, and among other places in the country. Some of the lessons incorporate other bits of the country's heritage, such as tea ceremonies and kendo, to spice up the experience even more!
If you are unable to travel at the moment, there are also online Japanese calligraphy classes for overseas people interested in learning. Shodō is not just about art; many people consider it a way of life. Discover this new way of living with the best traditional calligraphy workshops across Japan!
1. A triple delight of shodō, tea ceremony, and traditional dance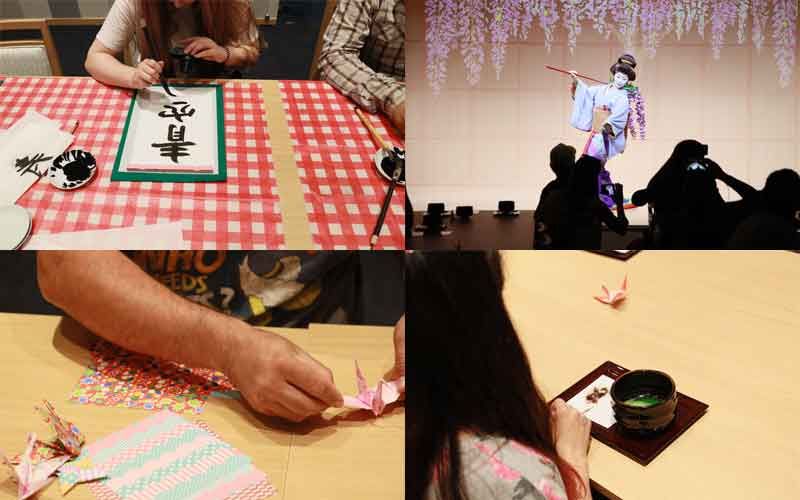 Accessorize the ordinary into beauty with shodō classes at the cultural hub of EDOCCO teahouse in Tokyo near Kanda Myojin! The experience includes as well matcha tea and origami!
Experience Various Japanese Cultures at Once: Calligraphy, Origami, Tea Ceremony, Japanese-Style Cosplay, and Dance Show!
Chiyoda City, Tokyo
2. Master Japanese calligraphy in beautiful kimonos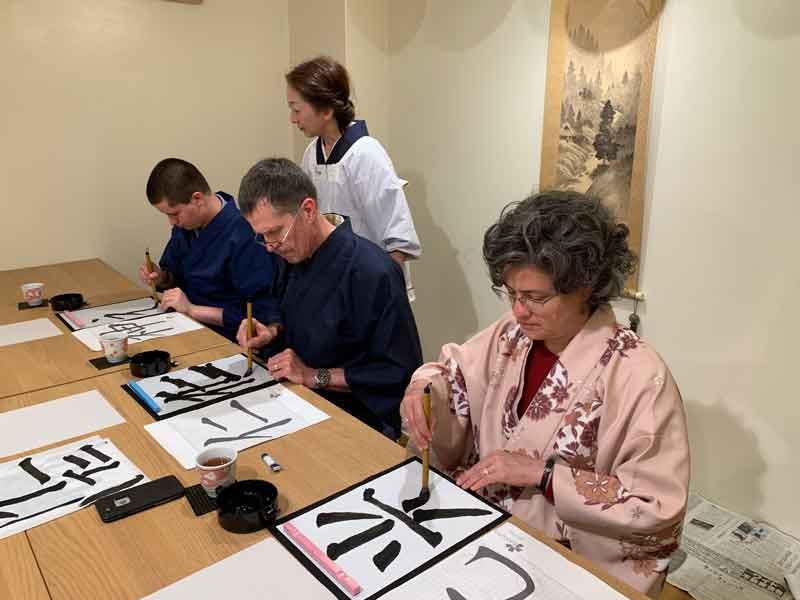 An important artform treasured by nobles and the samurais, Japanese calligraphy is about the gorgeous expression of kanji characters. Find out more in a calligraphy Kyoto class as you paint while wearing beguiling kimonos!
3. Intricate strokes of Kanji at Hiroshima workshop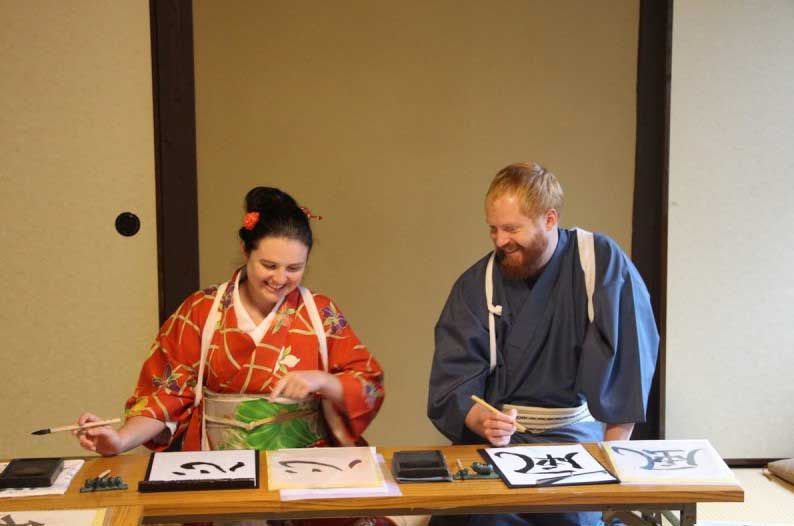 Using washi paper and a customary folding fan, you can draw out shodō patterns with the aid of a highly acclaimed Hiroshima calligrapher. You'll have many samples of kanji to choose from!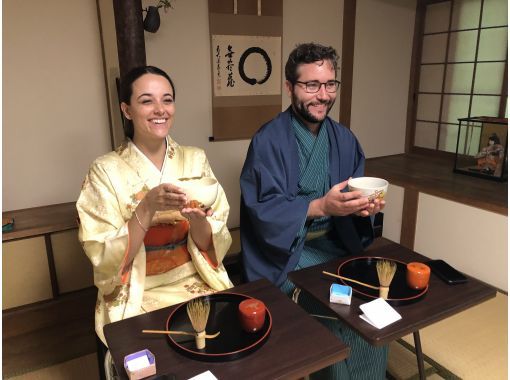 Take Part in Various Japanese Cultural Experiences, Such as Wearing Kimono, Calligraphy, and Tea Ceremony!
Hatsukaichi, Hiroshima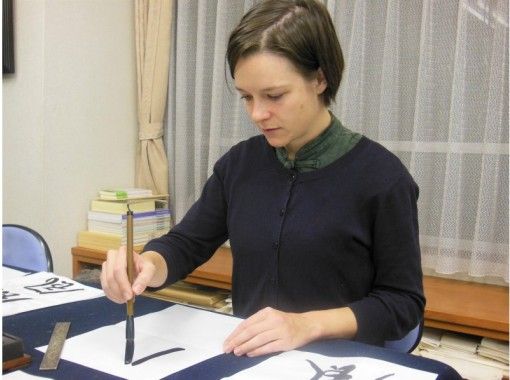 Appreciate the Beauty and Impressions of Japanese Characters and Their Meanings in a Traditional Calligraphy Experience in Hiroshima!
Hatchobori, Naka Ward, Hiroshima
4. Write and fight with Miyajima calligraphy and kendo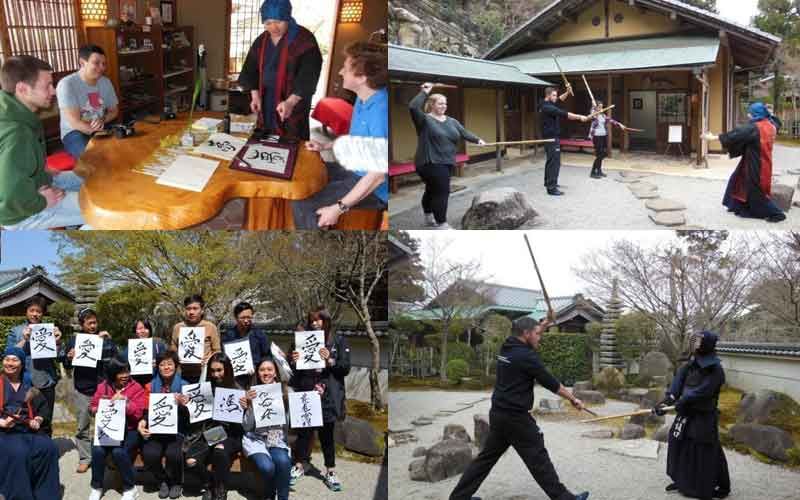 Keep a professional calligraphy souvenir of your family name, and learn how to make your own from an experienced Miyajima master. Set in a traditional garden, you'll also learn kendo, the art of bamboo sword dueling!
5. Roll up your sleeves with hand-made ink in Nara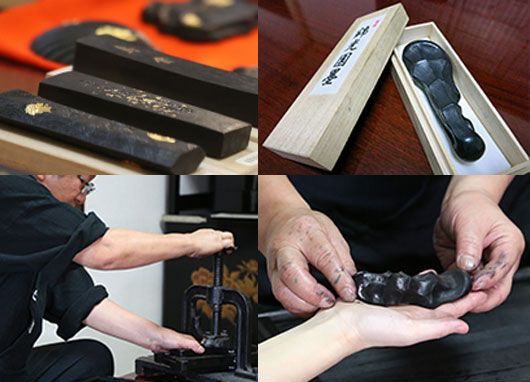 At this Nara city shodō workshop, you learn not only the ways of kanji but also how to make the famous black ink, down to the right texture and aroma. Uncover the delicate process leading up to the actual writing!
Calligraphy Experience Using Hand-Made Ink in Nara
Sanjocho, Nara
6. Osaka calligraphy workshop: Master rare shodō techniques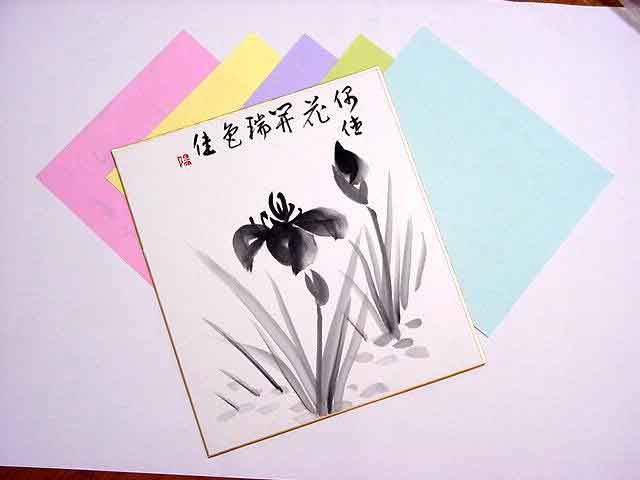 The Kana style of writing is only practiced in Japan. It entails smooth strokes that flow along the paper like a river down the slopes of a gentle mountain. Learn this rare technique in Osaka!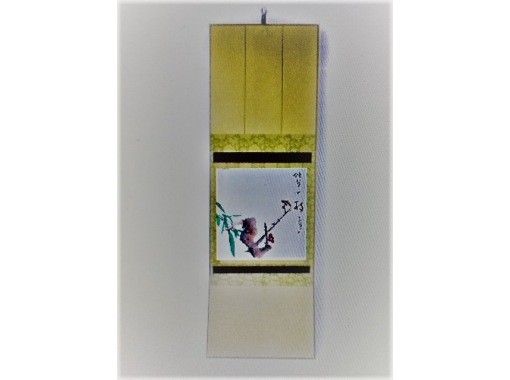 Sumi-e Calligraphy Art Experience in Osaka!
Matsu, Nishinari ward, Osaka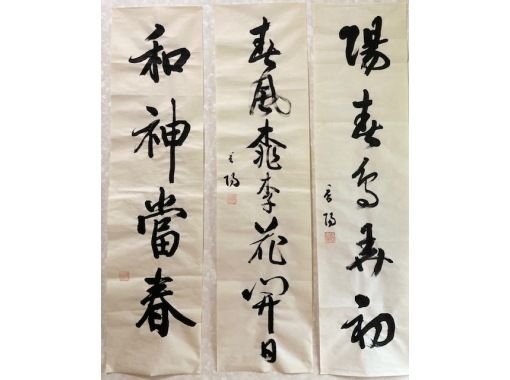 Traditional Calligraphy Workshop in Osaka: Practice Eiji Eight Laws, Scrolls, Lines, and Kana Calligraphy!
Matsu, Nishinari ward, Osaka
7. A glimpse into the Hiragana syllabary in Taito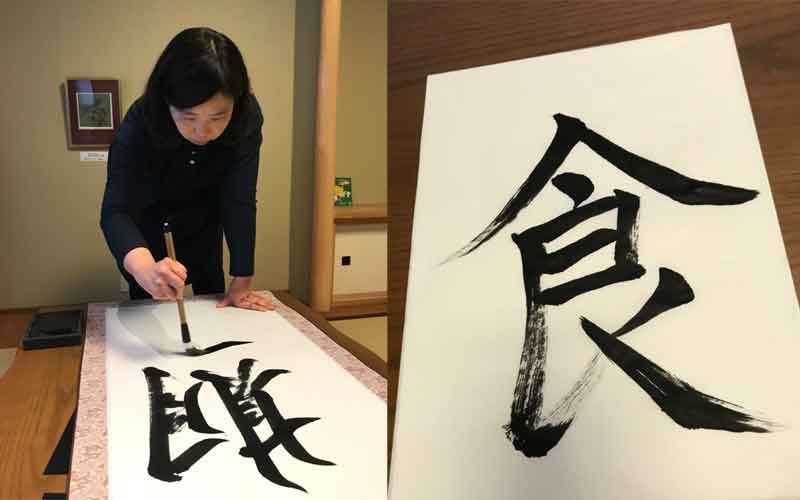 Motivated by traditional sweets and special organic tea afterward, you'll be a master of the hiragana syllabary and Japanese calligraphy Tokyo in no time at all!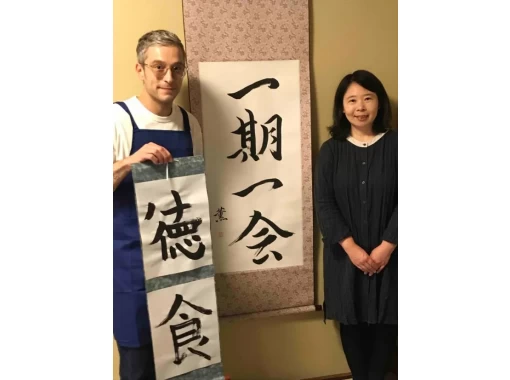 Traditional Calligraphy Experience with Japanese Tea and Seasonal Sweets in Tokyo
Taito City, Tokyo
8. Kimono, Calligraphy and Japanese Cuisine
Learn how to cook like locals as you wear a kimono. Write your favorite characters on colored paper and make your own fan. This fun and unique craft make for the perfect souvenir.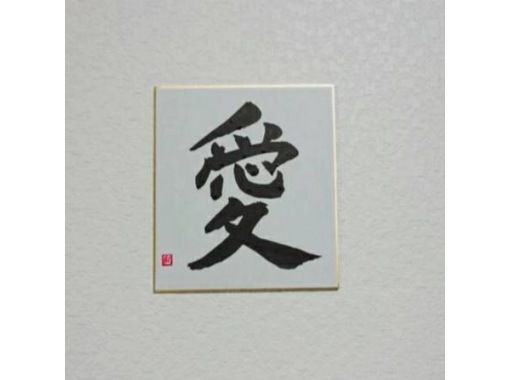 Experience home cooking and calligraphy while wearing an authentic kimono!
Mizugaoka, Itami, Hyogo
9. Make Your Own Glittery Calligraphy And Seal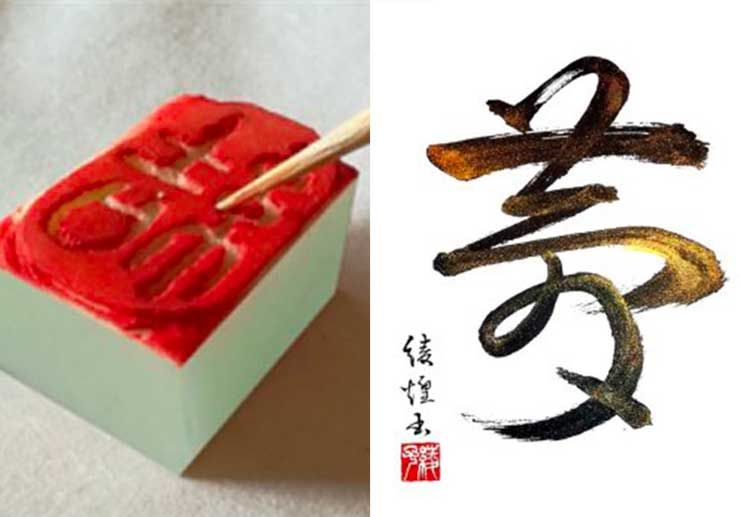 Choose from thousands of characters and words to create something fun and unique, then watch your creation come to life with glittery calligraphy! You can also make a special seal with your name on it in Kanji or Kana.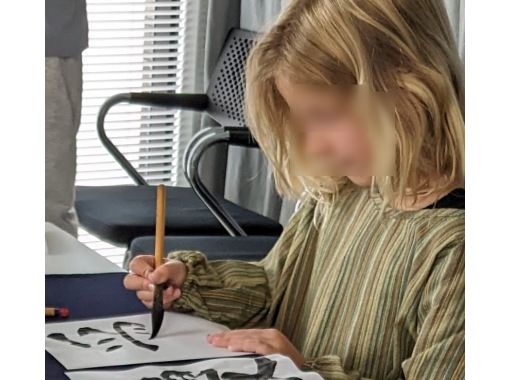 Glitter calligraphy and name seal making, easy and fun to do with children!
Ginza, Chuo-ku, Tokyo
Frequently asked questions
Q

What is Japanese calligraphy all about?

AReferred to as shoji or shodō, Japanese calligraphy is a unique form of ancient writing that entails special ink and a bamboo brush to paint out characters in Kanji. It is a highly esteemed practice that was popular with nobles, samurais, and ordinary people in Edo Japan.
Q

What is the significance of Japanese calligraphy?

AJapanese calligraphy is not just a special form of writing; it's a heritage unique to the country that entails expression and spirituality. Beyond communication, shodō serves to demonstrate an elegant grace and balance in writing. It is an ancient Zen practice that inspires peace and beckons understanding.
Q

How can I experience Japanese calligraphy?

AThrough the Activity Japan website, you can book shodō classes across physical workshops in Osaka, Hiroshima, Kyoto, Tokyo, and other places. If you can't travel for one reason or the other, Activity Japan also offers online courses for remote learning.
Q

What is the secret of holding a Japanese calligraphy brush?

AYou can hold the shodō brush in-between your index finger and thumb, but around the middle of the brush and not toward the bottom. Using your other fingers, balance out the pen so that the tip is at a right angle to the paper.
Q

How can I learn and perform Japanese calligraphy?

ATo master shodō with ease, it is best to sign up for professional lessons from an experienced tutor. Activity Japan provides many workshops and classes to guide you. You'll learn how to write on paper, and even how to customize t-shirts through shodō.