20 Best Things to do in Japan in November | Attractions | Activities | Tours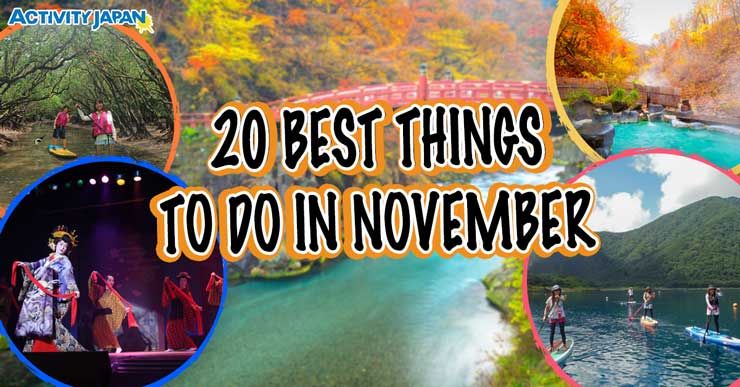 The penultimate month of the year is filled with many good things to do in Japan in November. During this time, the country is taken over by autumn foliage, ensuring picturesque cycling tours in Gifu and incredible canoeing and kayaking in Amami Oshima and other islands. The skies remain clear, filled by brisk air, and making for amazing paragliding adventures in Saitama.
The weather grows chilly with the prospective of winter, but that only builds up the setting for many other great things to do in Japan in November, such as spending the day at Hijiori onsen. Pottery and Shibuya food tours are sure to keep you warm as well!
From night snorkeling to sake tasting adventures, we explore all the best things to do in Japan in November!
1. A bus tour of Okinawa's most famous highlights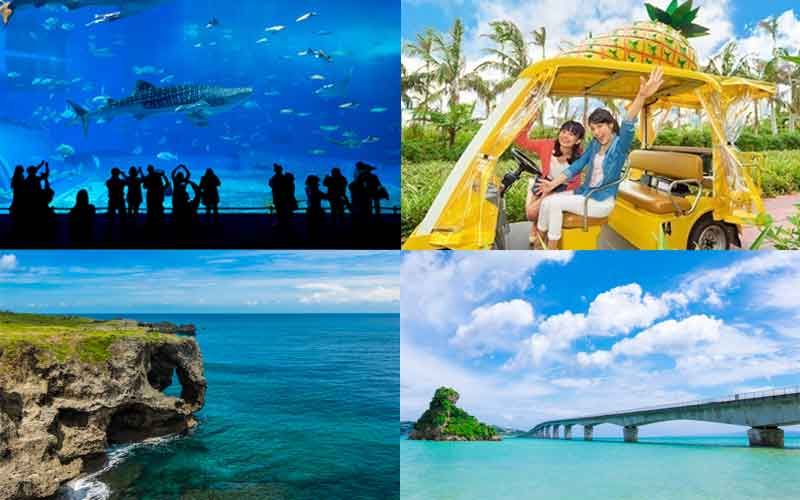 Watch gigantic whale sharks at Okinawa Churaumi aquarium, then spend time in the beauties of Kouri Island and Cape Manzamo, before winding up a blissful day with a ride across Nago pineapple park!
Bus Tour to Okinawa Churaumi Aquarium And Kouri Island, Manzamo and Nago Pineapple Park From Naha
Naha, Okinawa
2. Take a Gifu ride into Hida traditions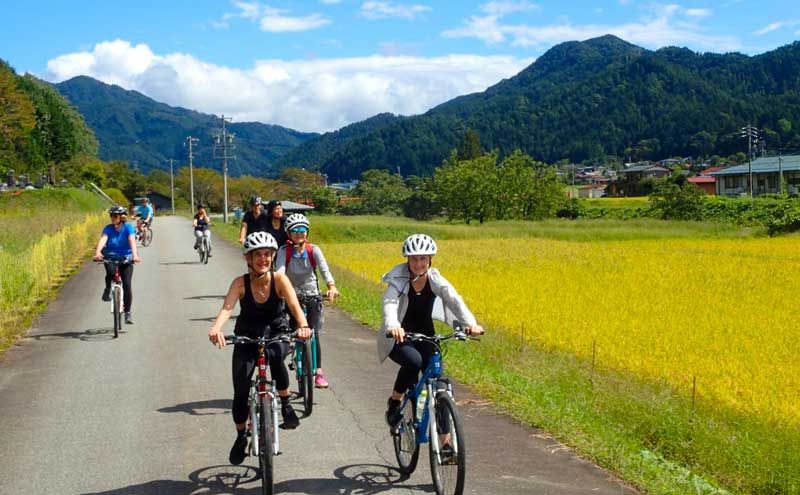 Cycle into the rhythm of life at Hida as you cruise back into a time of quiet farming villages and vast rice fields adorned by a joyful greenness and unlimited fresh air!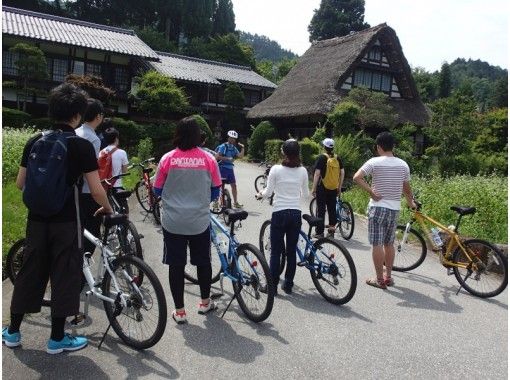 Enjoy Nature and Culture in a Half-Day Guided Cycling Tour Through Rural Villages, Old Folk Houses and Rice Fields in Gifu
Hida, Gifu
3. Explore Tokyo's best food market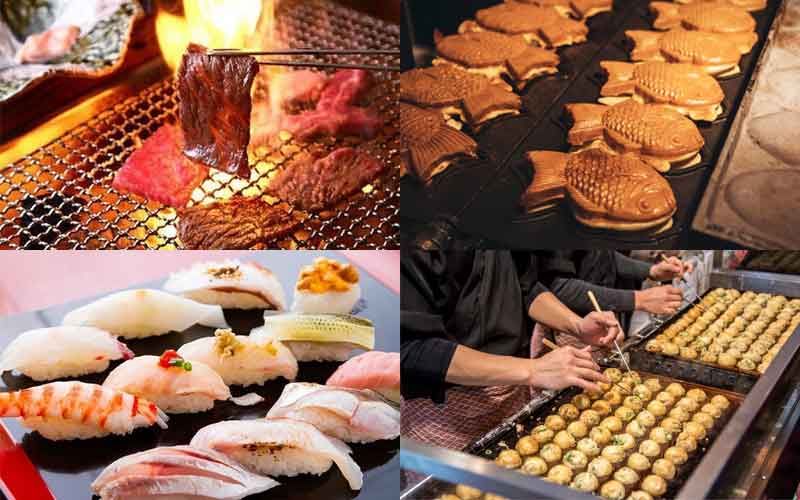 Ameya Yokocho is one of Tokyo's most vibrant open-air markets. It is the place to be for the freshest and tastiest fruits and delicious foods such as tempura, takoyaki, sushi, and much more!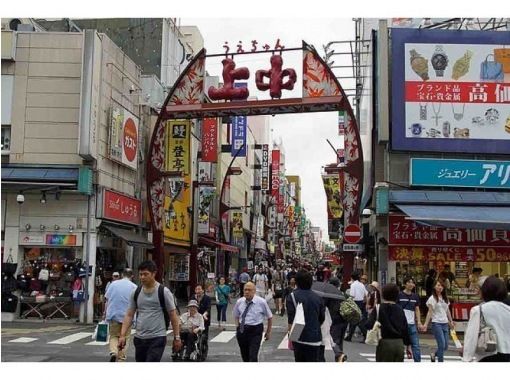 Ueno Local Market Food Tour: Taste the Most Delicious Local Dishes and the Vibrant Atmosphere of Ameya Yokocho Market!
Taito City, Tokyo
4. Gifted hands: Harness the power of creative pottery in Kyoto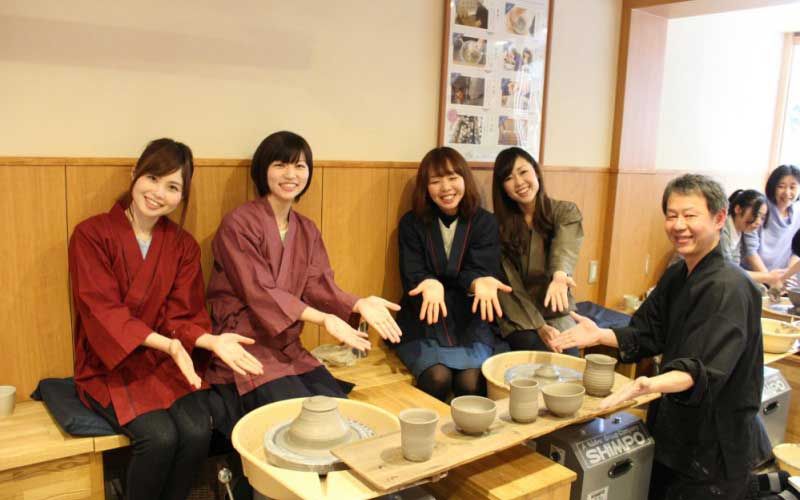 If you desire to learn something new and fun before the year's end, be sure to sign up for a Kyoto pottery course. Fill your kitchen cabinets with impressive vessel designs!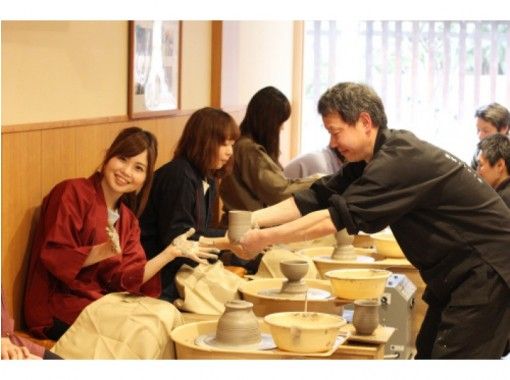 Beginner-Friendly Pottery Course in Kyoto: Make Your Own Unique Ceramic Pieces
Higashiyama ward, Kyoto
5. Hidden hot-spring retreat at Hijiori-onsen, Yamagata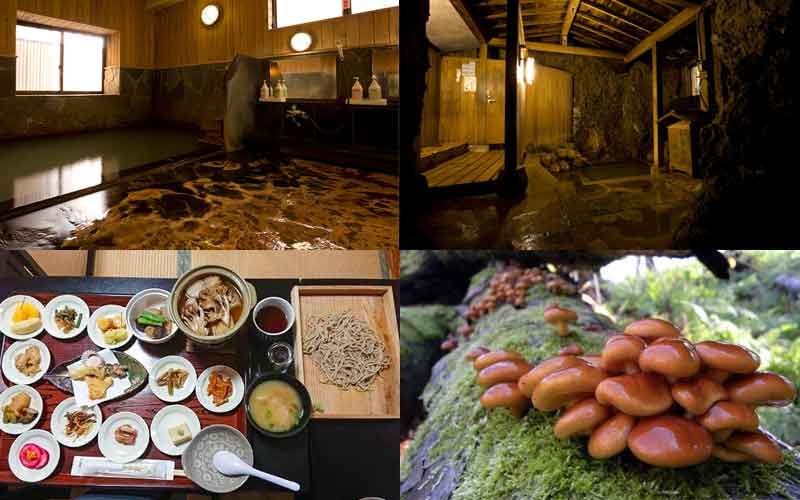 November can be a little cold in Japan, but that's perfect for spending the day in the therapeutic waters of a traditional hot spring bath. Yamagata's Hijiori-onsen promises delightful baths and scenery!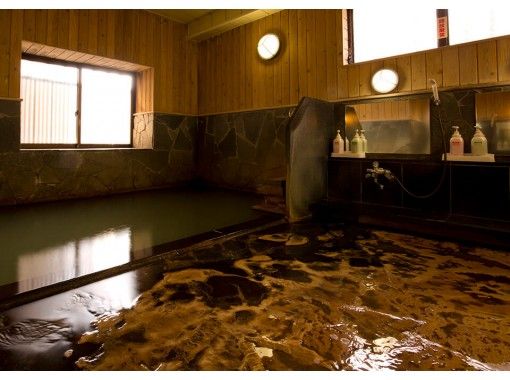 Stay Overnight at a Traditional Hot-Spring Inn in a Hidden Mountain Village and Indulge in a Traditional Course Meal of Authentic Shojin Ryori (Shinto Vegetarian Cuisine)
Okura, Yamagata
6. Amazing kabuki and backstage tours at Korakukan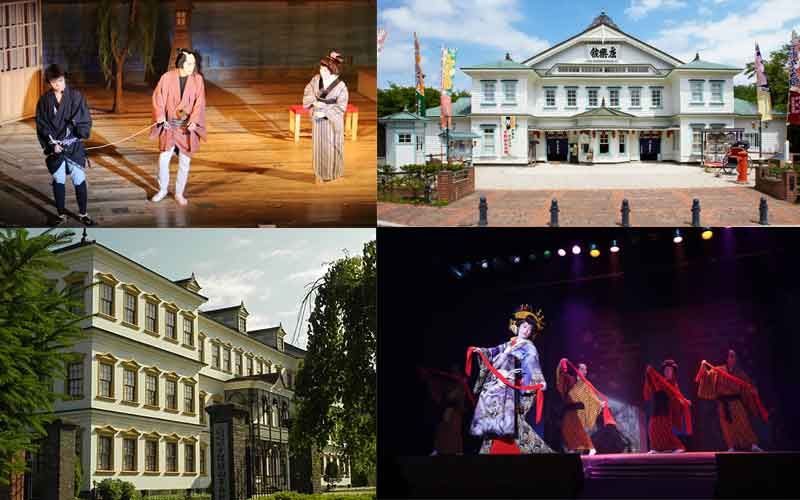 Have a great time viewing kabuki at Japan's oldest theater, Korakukan. You'll also get a tour of the backstage and the Kosaka Mine office whose workers the theater was built to entertain!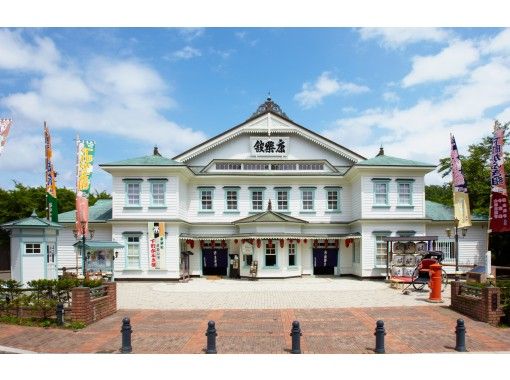 Korakukan Traditional Popular Drama Show Admission Ticket with Kuroko Backstage Tour, and Visit Kosaka Mine Office in Akita!
Kosaka, Akita
7. Realize your Ninja and Samurai dreams in Tokyo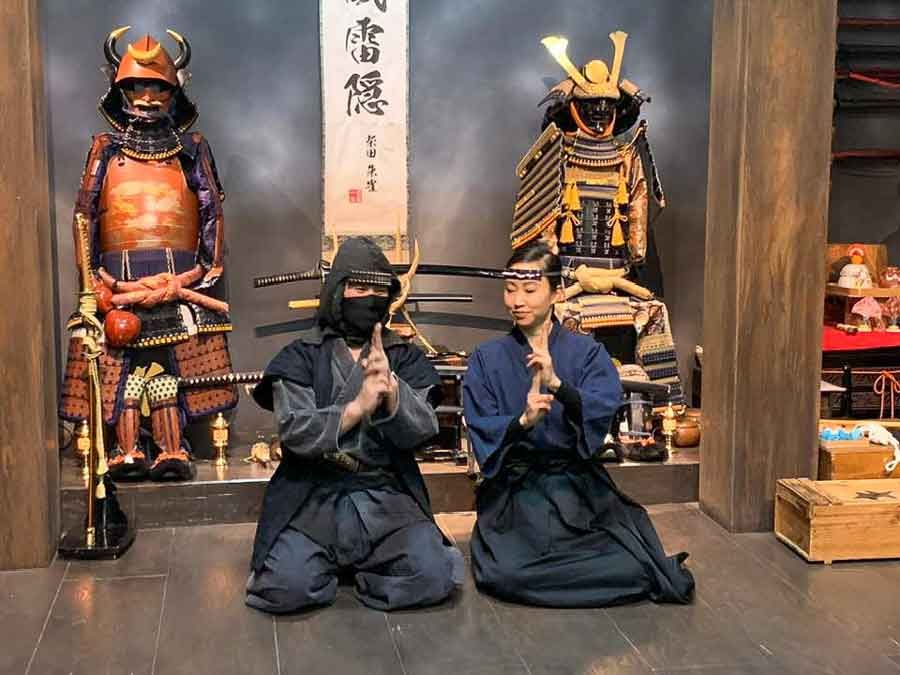 If you're fascinated by Japanese martial arts, this Tokyo crash course allows you to learn the ways of the Ninja, including throwing stars, and blowguns. It also teaches Samurai customs, entailing wearing armor, swordsmanship, and more!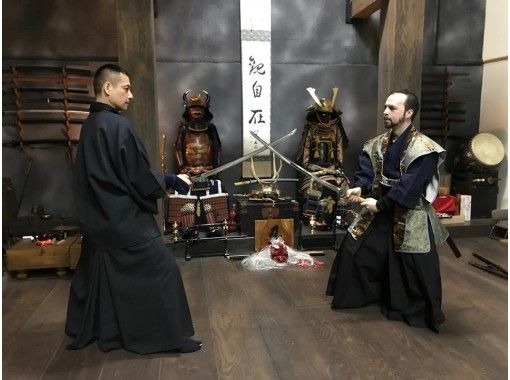 Wear a Ninja Outfit or a Samurai Attire and Learn the Skills and Techniques in a Martial Arts Training Course in Tokyo
Minato City, Tokyo
8. Yamanashi's beauty summed up by a Lake Motosu SUP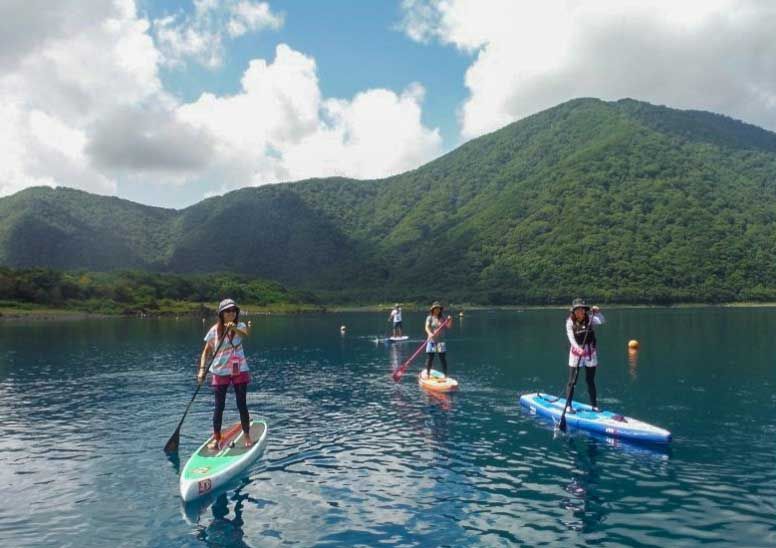 So beautiful that it features on the 1000-yen bill, Lake Motosu is the pride of Yamanashi and the five Fuji lakes. It offers fairytale SUP tours in the foreground of stunning ranges!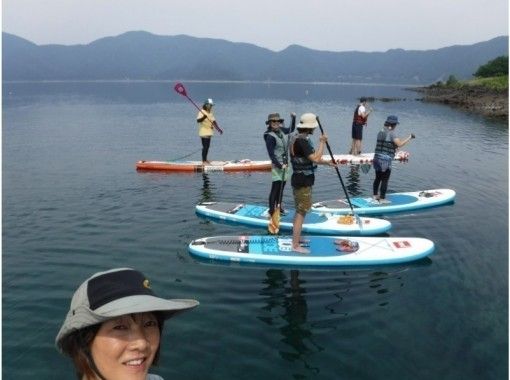 Go for a Walk on the Water: Standup Paddle-boarding Experience at Lake Motosu in Yamanashi
Fujikawaguchiko, Yamanashi
9. A romantic mangrove canoe on Amami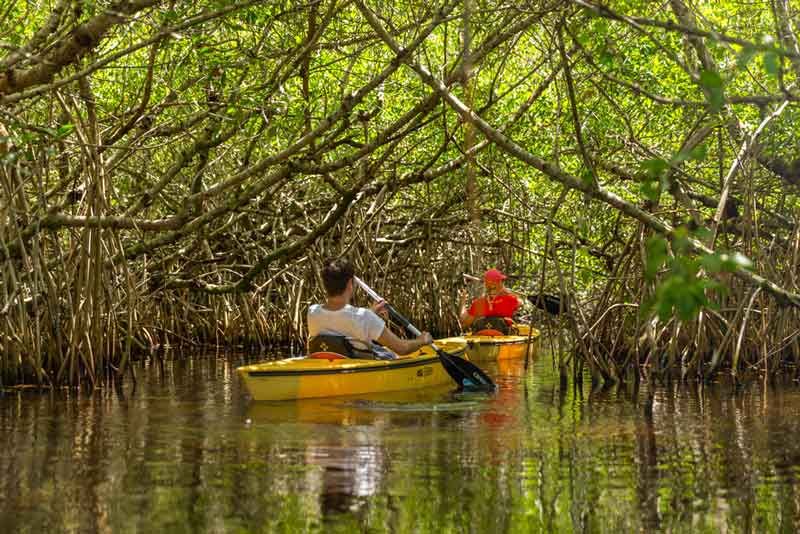 Paddle between a gorgeous natural tunnel of mangrove on an Amami Oshima island outing that also encompasses delicious seafood. Find peace in the clutches of untamed Mother Nature!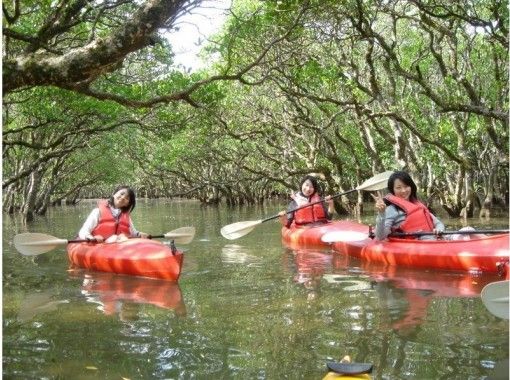 Enjoy a Leisurely Mangrove Canoeing Tour in the Magnificent Nature of Amami Oshima
Amami Oshima, Kagoshima
10. SUP adventure in perfect Amami Oshima green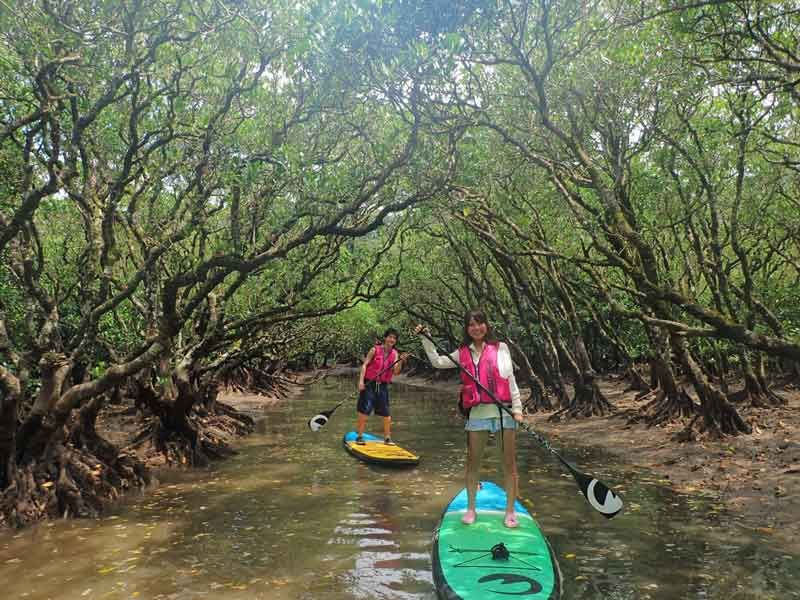 On Amami Oshima island, high-rises are replaced by beautiful mangroves that lean out over the water like umbrellas shielding explorers from the sun as they savor SUP tours. Rides couldn't be more magical!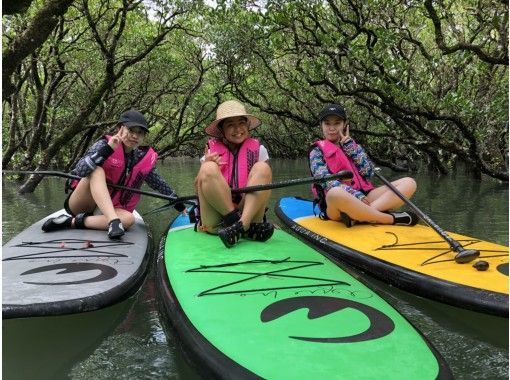 Explore Amami Oshima's Beautiful Mangroves on a Standup Paddle Board
Amami Oshima, Kagoshima
11. Kayaking through the charming Yakushima island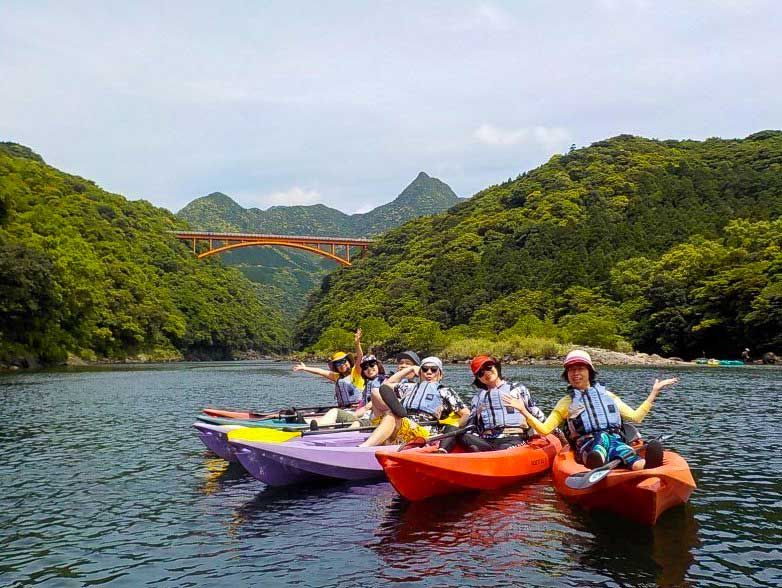 Yakushima island is renowned for its impressive collection of cedar forests and the scenic stretch of seascape that hugs its periphery, making for some of the best kayaking in the country!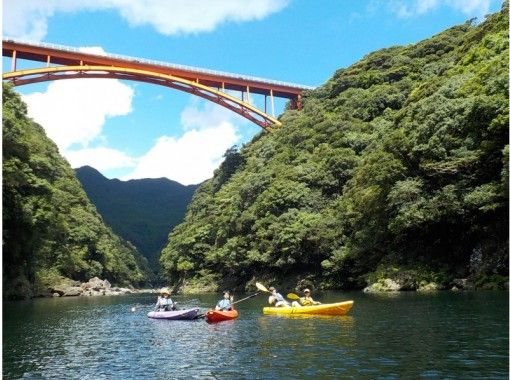 Kayak in the Deep Green Forest, Beautiful Nature, and Clear Waters of Yakushima (Half-Day Course)
Yakushima, Kagoshima
12. An Okinawa night out of snorkeling and stargazing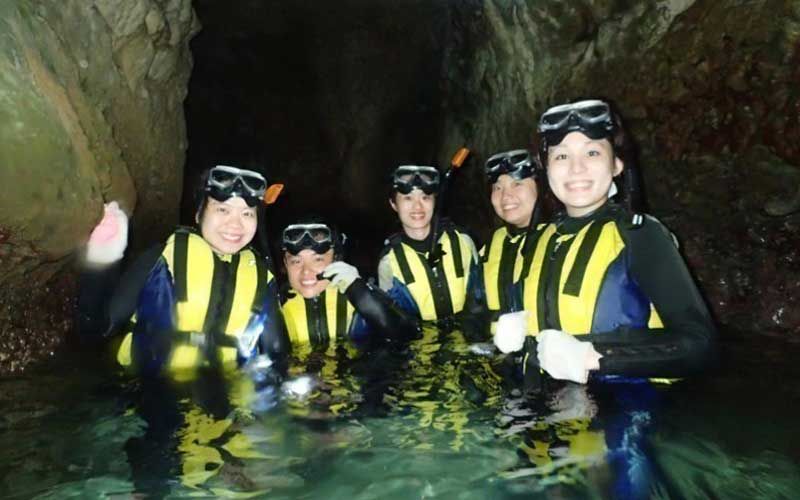 For an exciting after-hours adventure, take up an Okinawa night snorkeling tour served with the dessert of a beautiful starry night sky. The blue cave stands out spectacularly in the night light!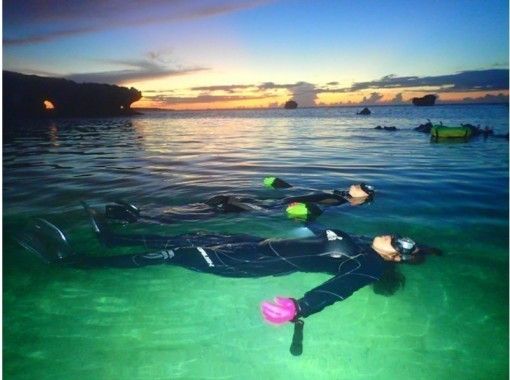 Okinawa Night Snorkeling Tour: Watch the Shining Starry Sky and Explore the Blue Caves of Onna at Night
Onna, Okinawa
13. Learn the recipe for home-made sake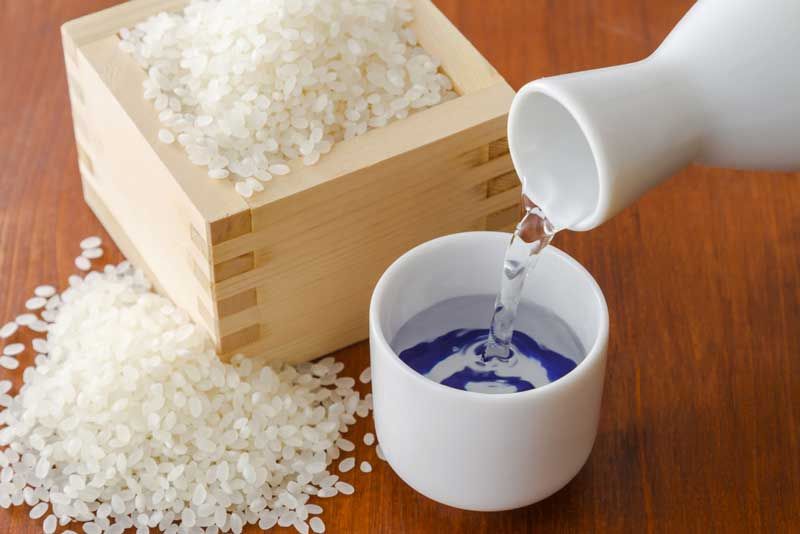 Japanese rice wine is unique and tasty, and with this DIY sake-making workshop, you can learn how to make the famous Doburoku so you can always carry a piece of Japan with you wherever you go!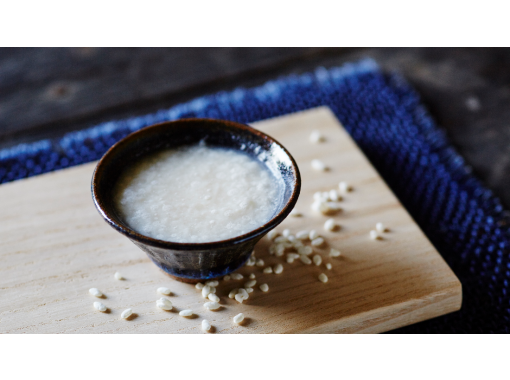 The Ultimate Local Experience for Sake Lovers: Learn How to Make Doburoku (Unrefined Sake) and Create Your Own Original Sake Cup
Tome, Miyagi
14. Savor traditional Japanese cuisine in Iwate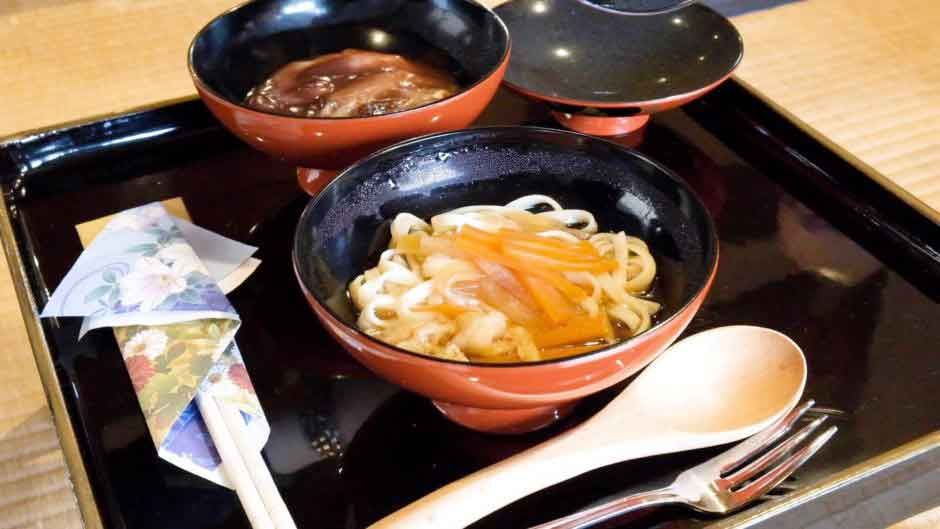 Spend the night at a traditional hot spring inn as you master the ways of Iwate's delicious hearth fire cooking. The tour also includes a Taiyaki store visit for delicious pancakes cut out in the shape of a fish!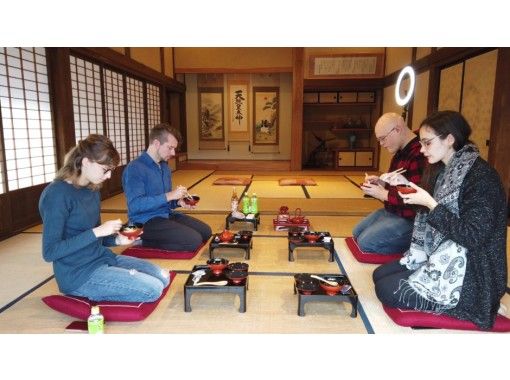 Experience Regional Cuisine Cooking Class with Locals in Traditional Japanese-Style Buildings
Rikuzentakata, Iwate
15. Soar like a bird in Saitama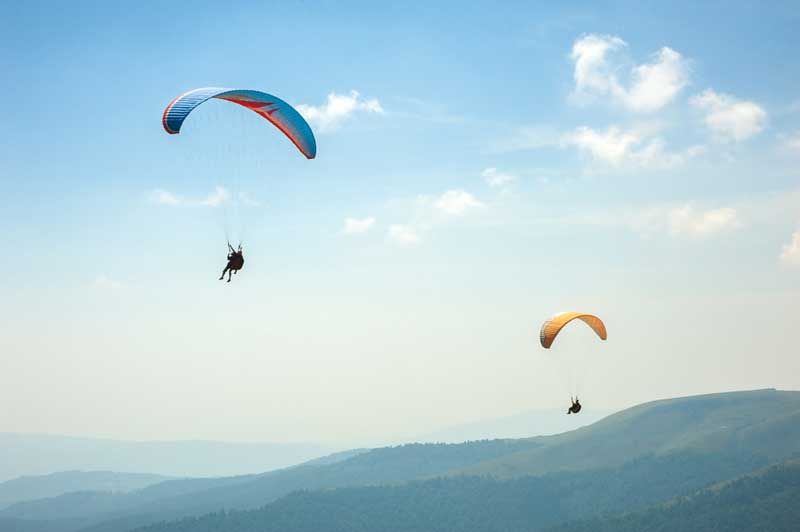 With incredible patterns of earth below amid beautiful gatherings of civilization, this Saitama paragliding course takes you through the wondrous scenery of Tokigawa Town!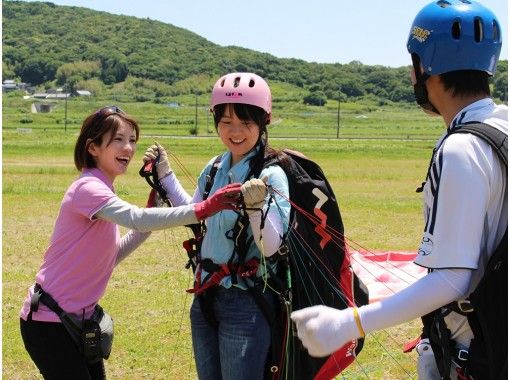 Tandem Flight Paragliding Course in Saitama (Recommended for Beginners Who Want to Get a Paragliding License)
Tokigawa, Saitama
16. A double treat of water sports and bbq in Nago, Okinawa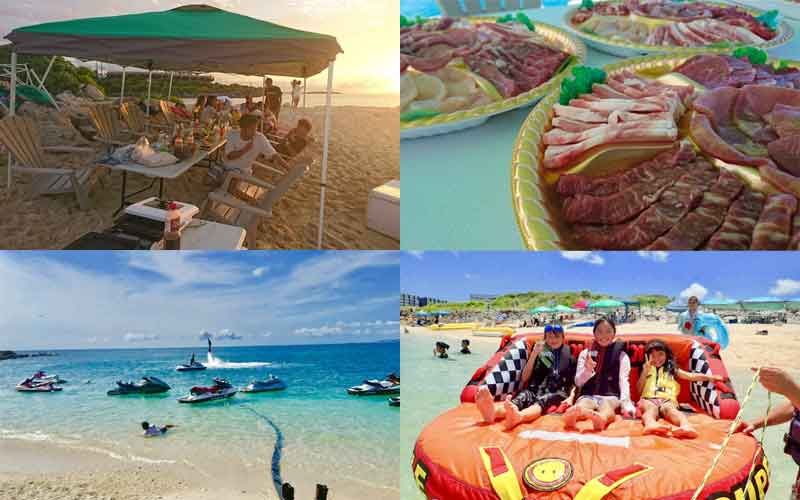 November still has excellent weather for some fun out on the beach. Enjoy all sorts of water sports in the endless blue playground, and when hunger bites, have your fill with beach barbecues of shrimp, beef, and more!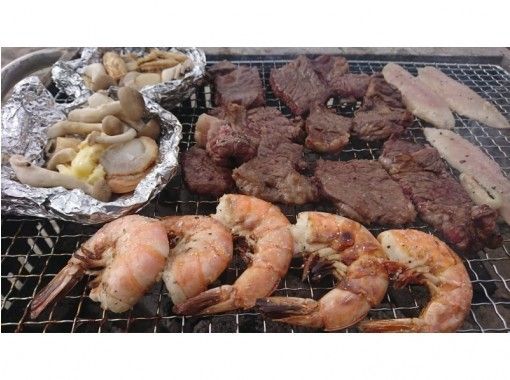 Have Fun on the Beach with Various Water Sports and Delicious Bbq with Your Friends and Family in Nago, Okinawa
Nago, Okinawa
17. Explore the food paradise in Shibuya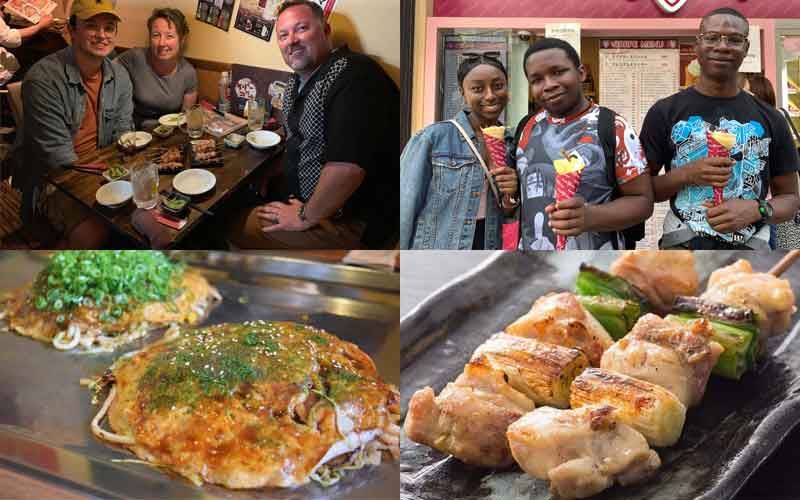 Be sure to bring your appetite along when you go sightseeing in Shibuya because you'll be treated to many delicacies, including takoyaki, yakiniku, yakitori, and sushi. On tour, you'll also get to see Shibuya's Hachiko statue, honoring a dog remembered for his loyalty!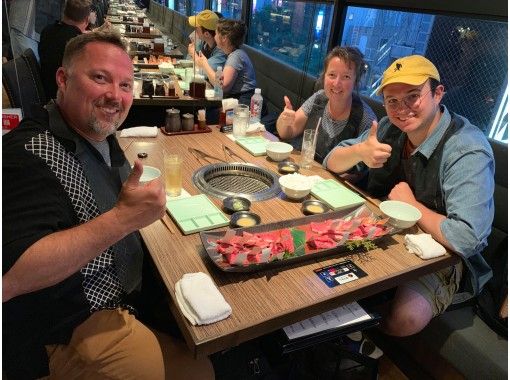 Learn and Practice Authentic Japanese Eating Style by Eating and Drinking Like a Local at Shibuya Unlimited Food Tour!
Shibuya City, Tokyo
18. Miyagi SUP: Matsushima is your oyster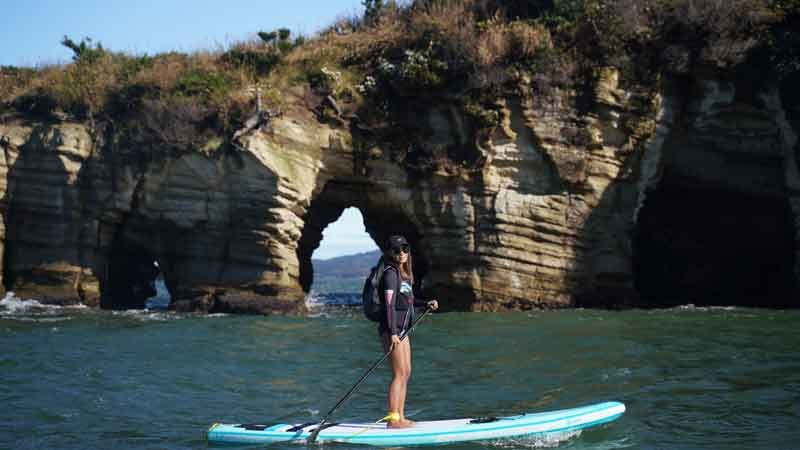 Bearing incredible views of Matsushima, this Miyagi SUP adventure is all about fun on a sea as transparent as the air above it. Paddlers get to see the beautiful sea bed and horizons of greenery and mountains!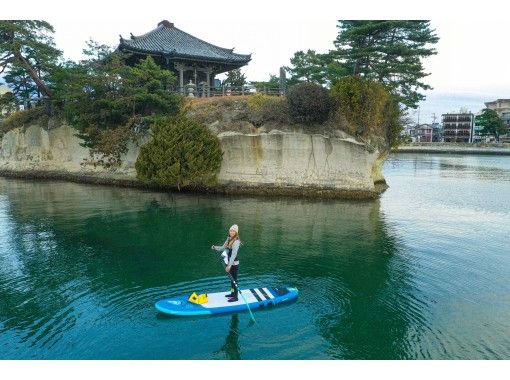 SUP Adventure Surrounded by the Beautiful Nature Sceneries of Matsushima, Miyagi!
Matsushima, Miyagi
19. Uncover the spirit of Japanese Sake in Shiogama
Drinking Japanese sake is an art. This guided tasting tour in Shiogama will show you how to appreciate local sake and enjoy it with sushi for the most delightful experience!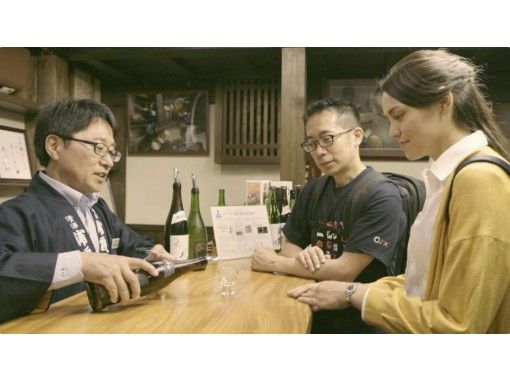 Sake and Sushi Pairing in the Foodie Heaven Shiogama (Walking Tour with an English Speaking Local Guide Included)
Shiogama, Miyagi
20. A Sendai Izakaya dinner to brighten your night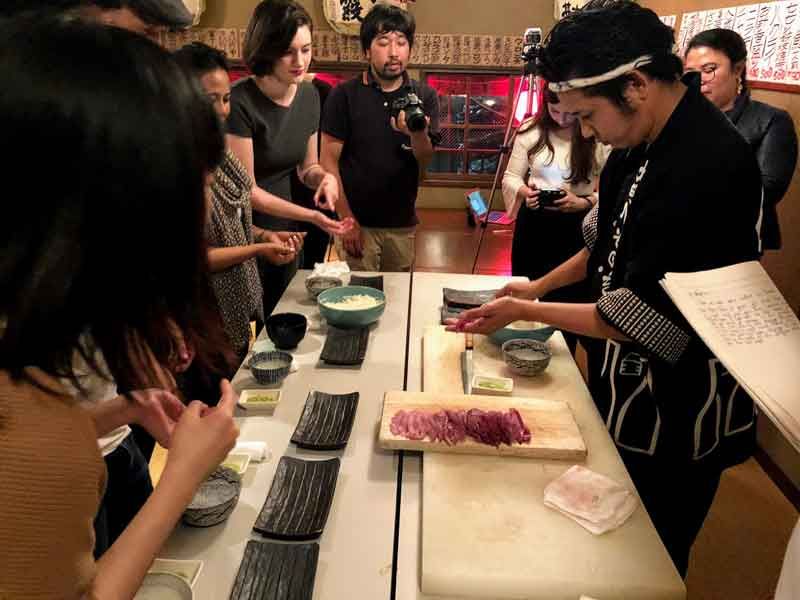 A Japanese Izakaya is the perfect place to hang out after a long day. The menu entails the tastiest drinks and food, with this tour also including sushi workshops and tuna shows to teach you the cooking ropes!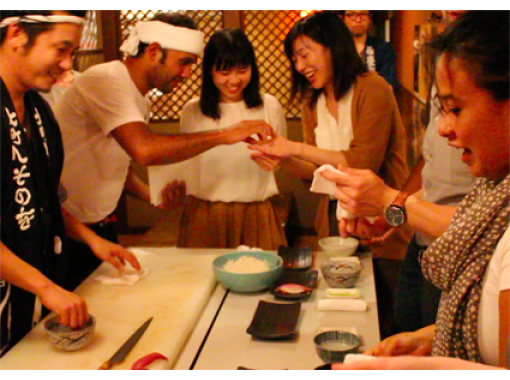 Izakaya Dinner with Tuna Show & Sushi Workshop
Sendai, Miyagi